iOS 16.4 Beta 2 Re-Adds Page Turning Animation to Apple Books
The second beta of iOS 16.4 that was introduced to developers today appears to have a limited number of new features, but it does have a major update for those who use Apple Books - it reintroduces an option for the page turning animation.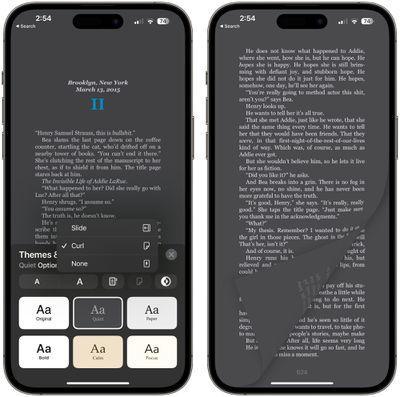 With iOS 16, Apple revamped the Books app and removed the traditional page turning animation in favor of a simpler slide animation, but many Apple Books users were not happy with the decision.
The iOS 16.4 beta adds a new toggle in the Themes and Settings section of the Books app that lets users choose a page turning animation. Options include Curl, Slide, and None. Slide is the iOS 16 default, Curl is the old iOS 15 and earlier animation, and None is an even simpler animation that just shifts from page to page. These features are also available in iPadOS 16.4 for those who read on the iPad.