Apple Discontinued the Newton 25 Years Ago Today
Apple discontinued the Newton personal digital assistant (PDA) 25 years ago today via press release, marking the start of the company's renewed focus on the Mac.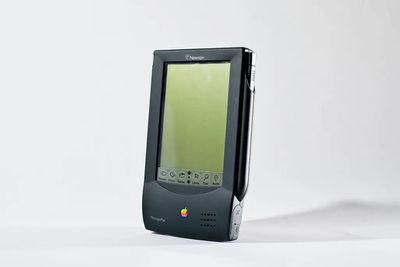 The Newton came with a stylus, ran Newton OS, and was the first PDA to offer handwriting recognition. The device could be used to take notes, store contacts, manage calendars, send faxes, and more. In some ways, it was a precursor to other handheld Apple products like the iPhone and iPad, with its second-generation model even being the first major device from the company designed by Sir Jony Ive.

Apple started developing the Newton in 1987 and shipped the first devices in August 1993, spending $100 million on its development. Production officially came to an end on February 27, 1998. Steve Jobs decided to discontinue the Newton less than a year after he returned to the company in 1997. The original press release announcing the device's discontinuation reads:
Apple Computer, Inc. today announced it will discontinue further development of the Newton operating system and Newton OS-based products, including the MessagePad 2100 and eMate 300.

"This decision is consistent with our strategy to focus all of our software development resources on extending the Macintosh operating system," said Steve Jobs, Apple's interim CEO. "To realize our ambitious plans we must focus all of our efforts in one direction."

Apple is committed to affordable mobile computing, pioneered by the eMate, and will be serving this market with Mac OS-based products beginning in 1999.

Apple will continue to market and sell its current inventory of MessagePad 2100 and eMate 300 computers, as well as to provide support for their installed base of users. The Company is committed to working with its customers and developers to ensure a smooth transition to Mac OS-based products.

Apple Computer, Inc. ignited the personal computer revolution in the 1970s with the Apple II, and reinvented the personal computer in the 1980s with the Macintosh. Apple is now recommitted to its original mission - to bring the best personal computing products and support to students, educators, designers, scientists, engineers, businesspersons and consumers in over 140 countries around the world.
The Newton had problems translating handwritten notes into text upon launch, leading to a wave of negative reviews and ridicule by the media. While the release of Newton OS 2.0 in March 1996 substantially improved the handwriting recognition feature, the Newton continued to be overshadowed by its initial poor reception, leading to the inevitable discontinuation of the device. Only an estimated 200,000 were ever sold.