AI-Powered Bing Search Comes to Microsoft Edge, Skype and Bing iOS Apps
Microsoft today announced the rollout of new Bing, Skype, and Edge apps for the iPhone and the iPad, all of which feature the chat-based AI-powered search capabilities that the company unveiled earlier in February.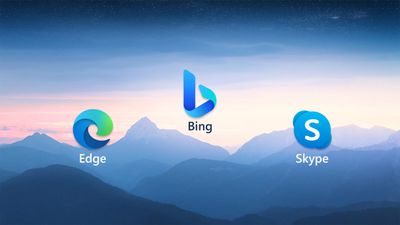 The redesigned Bing mobile app has an overhauled look and a new chat experience. Tapping on the Bing icon at the bottom of the app opens up a chat session, where users can ask the Bing chatbot questions that range from simple to complex. Answers can be displayed as bullet points, text, or simplified responses.
Like the desktop version of Bing, the mobile version allows for complex searches that can help with things like planning a trip itinerary or researching a television to buy. Microsoft allows users to refine their searches by asking for more details, clarity, and ideas. Bing is also able to perform creative tasks like writing an email, crafting a poem, creating a quiz for trivia night, providing prep for a job interview, and more.
The Bing app also includes voice-based search capabilities, plus the Bing experience is available from the homepage of the Microsoft Edge mobile app.
Along with AI updates for the Bing and Microsoft Edge apps, Microsoft is revamping the Skype app for iOS to add AI-powered Bing search. Microsoft says that Bing integration will add "helpful and fun new scenarios and capabilities."
As an example, a group of Skype users can add Bing to their group and answer questions and provide information to the entire group, useful for travel planning. When catching up with friends, Bing can provide information from the web, with text able to be displayed in multiple ways.
Updated Bing, Skype, and Microsoft Edge apps are available worldwide in a preview capacity for those who are on the Bing preview experience. Microsoft says that there could be hiccups related to bandwidth for a few days, but it is working on a fix.
Microsoft is still rolling out Bing preview access "as fast as possible" and there is a waitlist available.