Facebook Announces $12/Month 'Meta Verified' Subscription Service
Meta CEO Mark Zuckerberg over the weekend announced the upcoming launch of a new "Meta Verified" subscription service that's designed for Facebook users, which will provide verification for $11.99 per month on the web or $14.99 per month on the iPhone or the iPad.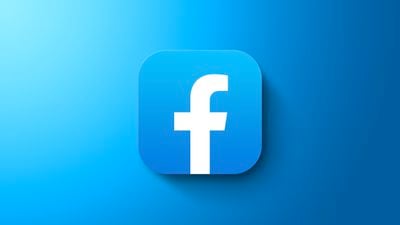 Zuckerberg described Meta Verified as a subscription that lets individuals verify an account with a government ID, get a blue badge, and get "extra impersonation protection" against accounts that are "claiming to be you." It also comes with "direct access to customer support, exclusive stickers, and a news release describing the feature says that it will include "access to increased visibility and reach." A full list of announced features:
A verified badge, confirming you're the real you and that your account has been authenticated with a government ID.
More protection from impersonation with proactive account monitoring for impersonators who might target people with growing online audiences.
Help when you need it with access to a real person for common account issues.
Increased visibility and reach with prominence in some areas of the platform- like search, comments and recommendations.
Exclusive features to express yourself in unique ways.
The service is "about increasing authenticity and security" across Meta services, and it follows Twitter Blue, Twitter's $8 per month subscription service that provides a blue checkmark and provides access to features like Edit Tweet.
Meta also plans to make the same verification process available on Instagram, but separate subscriptions will be required for each platform, so an individual or business that wants to be verified on both Facebook and Instagram will need to pay separate subscription fees.
Instagram and Facebook are monetized through advertising at the current time, but changes like Apple's App Tracking Transparency can make ads an unreliable revenue stream. Subscription payments will give Facebook a steady monthly income.
Meta Verified will roll out in Australia and New Zealand this week before it expands to additional countries. Meta says that as it tests and learns, there will be no changes to accounts on Instagram and Facebook that were already verified, but the meaning of the verified badge is "expanding."