Engineer Brings Functional USB-C Port to AirPods Pro
Hardware prototyping consultant Ken Pillonel has sought to address some of the AirPods Pro's repairability issues with a 3D-printed replacement casing and switching the Lightning charging port for a USB-C port.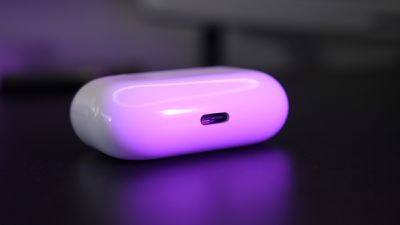 In his latest video, Pillonel highlighted that the ‌AirPods Pro‌ are not designed to be serviced or repaired since their charging case is not openable without damage to the device, effectively making them a disposable item. Repair specialists at iFixit gave Apple's first- and second-generation AirPods, as well the ‌AirPods Pro‌, a repairability score of zero out of 10 because of this. Pillonel found that the ‌AirPods Pro‌'s charging case is easier to open than that of the standard AirPods, even if this is still not guaranteed without damage.
After developing a similar solution for the first- and second-generation AirPods, Pillonel sought to create a solution to give new life to unopenable ‌AirPods Pro‌ charging cases, which currently face inevitable obsolescence due to their three built-in batteries. Pillonel created a downloadable 3D-printed replacement casing (available on GitHub) to allow technicians to purposefully break open the existing case to gain access to the internals and make repairs.
Replacement batteries are available to buy online, but replacement Lightning ports cannot be purchased. This means that Lightning ports cannot be replaced when they break unless they are obtained from other AirPods charging cases, which is not always an option for technicians. To remedy this, Pillonel is now offering a ready-to-install replacement USB-C port with an integrated circuit for the ‌AirPods Pro‌.
As a standard port, USB-C on the ‌AirPods Pro‌ increases the possibility of long-term repairability, Pillonel has suggested. Pillonel is also responsible for similar modifications that
added a USB-C port to the iPhone
and a
Lightning port to a Samsung Galaxy A51
.
EU legislation will force Apple to switch new AirPods models to USB-C from late 2024 and analyst Ming-Chi Kuo believes Apple could make the change sometime after releasing the first iPhone models with a USB-C port this year. Apple launched the Self Service Repair program last year as part of an effort to address some of the criticisms around the repairability of its devices, but questions remain around the sustainability of devices like AirPods.