Apple Responds to Yet Another Report About iPhone 14's Crash Detection Feature Triggering False 911 Calls
Emergency dispatchers continue to raise awareness about Apple's Crash Detection feature causing an influx of false 911 calls from skiers and snowboarders.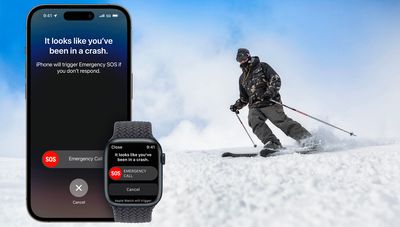 Crash Detection launched last year for all iPhone 14 models and the latest Apple Watch models, including the Series 8, Ultra, and second-generation SE. The feature is designed to detect a severe car crash and automatically call emergency services if a user does not respond to the device within 20 seconds, but it appears that iPhones and Apple Watches sometimes mistake a skier or snowboarder taking a tumble as a car crash.
A report from The New York Times today focused on Colorado's Summit County, where several ski resorts are located. There, a dispatcher and a police officer complained that responding to false 911 calls triggered by iPhones and Apple Watches has been a time-consuming task and threatens to divert resources away from legitimate emergencies.
The report quotes dispatcher Trina Dummer:
"My whole day is managing crash notifications," said Trina Dummer, interim director of Summit County''s emergency services, which received 185 such calls in the week from Jan. 13 to Jan. 22. (In winters past, the typical call volume on a busy day was roughly half that.) Ms. Dummer said that the onslaught was threatening to desensitize dispatchers and divert limited resources from true emergencies.
Mark Watson, a sergeant with the local sheriff's office, also said the situation is impacting his ability to carry out his duties effectively.
In response to the report, an Apple spokesperson said the company is "aware that in some specific scenarios these features have triggered emergency services when a user didn't experience a severe car crash or hard fall." The spokesperson noted that Apple optimized Crash Detection with iOS 16.1.2 and watchOS 9.2 last year to reduce the number of false calls, and said the feature has "already contributed to saving several lives."
The report notes that Apple also sent four representatives to the Summit County call center to observe Dummer and her team for a day.
There have been several reports about the issue in other skiing areas like Colorado, Utah, New York, Pennsylvania, Minnesota, and British Columbia, Canada since Apple introduced the feature last year. It's unclear if the optimizations that Apple made have led to a reduction in false 911 calls from skiers and snowboarders; in any case, it will likely take some time before all users update their iPhone or Apple Watch to the latest software versions. It's also unclear if Apple plans to make any further optimizations.
When a severe car crash is detected, the iPhone or Apple Watch displays an alert, which users have 10 seconds to act on. If the user is unresponsive, the device begins another 10-second countdown while sounding an alarm and aggressively vibrating or tapping, and then calls emergency services if the user remains unresponsive. But since skiers often wear thick outerwear, some are unaware when the feature is triggered.
Apple says the feature relies on sensors like the accelerometer and gyroscope in the iPhone and Apple Watch, along with "advanced Apple-designed motion algorithms trained with over a million hours of real-world driving and crash record data" for increased accuracy.
Apple did not respond to our request for comment.