New HomePod Delivered to One Lucky Customer Two Days Early
The second-generation HomePod is set to be released on Friday, February 3, which is the day that pre-orders will be delivered and when the speakers will be available for purchase in retail stores. One lucky MacRumors reader received his HomePod days early, with the device delivered today.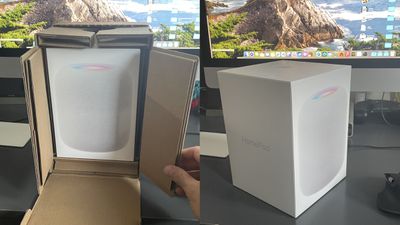 The ‌HomePod‌ in question was ordered from Best Buy and was mistakenly delivered early by the Canada Post.
Apple's second-generation ‌HomePod‌ is almost identical to the now-discontinued original ‌HomePod‌, coming in at just a bit shorter. The major external design difference is the revamped display, which is edge-to-edge, larger, and improves the overall look of the speaker.
The internal components have also been changed with Apple tweaking the number of tweeters and microphones, but reviewers have found that the speaker largely sounds the same as the original model. As with the first ‌HomePod‌, the new version comes in two colors, white and a new midnight shade.
Apple is selling the ‌HomePod‌ for $299, and it can be purchased from the Apple website. It will be in stores on Friday.