Development on Augmented Reality 'Apple Glasses' Postponed Indefinitely
Apple has paused development on the augmented reality Apple Glasses that it planned to introduce after its mixed reality headset, reports Bloomberg. Work on the product has been postponed because of technical difficulties.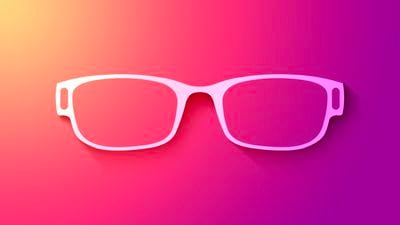 Rumors suggested that Apple wanted to develop a pair of lightweight augmented reality glasses that would be similar to the Google Glass smart glasses. The glasses would provide digital information overlaid on the real world rather than offering immersive virtual experiences like the AR/VR headset, but Apple has not been able to develop the necessary hardware to produce a lightweight wearable that has the power of an iPhone and enough battery life to run it.
Apple initially wanted to release the ‌Apple Glasses‌ in 2023 before delaying the project to 2025, but now the product's launch has been postponed "indefinitely." Apple has also scaled back work on the device, so ‌Apple Glasses‌ will not be launching in the foreseeable future, but Bloomberg says that Apple considers AR glasses to be a product that could one day replace the ‌iPhone‌.
According to Bloomberg, some Apple employees do not believe that Apple will ever ship AR glasses. Most of Apple's AR/VR group is working on the mixed reality headsets that Apple is planning to produce, but there are still some that are exploring technology for future AR glasses.
Rather than developing augmented reality glasses, Apple is now focused on creating a more affordable mixed reality headset that will appeal to a wider range of consumers. The first AR/VR headset that is set to launch this year will cost somewhere around $3,000, so Apple wants to provide similar capabilities at a cheaper price point in the future.
Details on all of the features included in the first mixed reality headset can be found in our AR/VR roundup.