Apple CEO Tim Cook Taking Substantial Pay Cut in 2023 After Earning Nearly $100 Million Last Year
Apple CEO Tim Cook's total compensation was $99.4 million in 2022, according to the company's proxy statement released today. His compensation included a $3 million salary, roughly $83 million in stock awards, and $13.4 million in other forms of compensation. Cook's total compensation in 2021 was $98.7 million.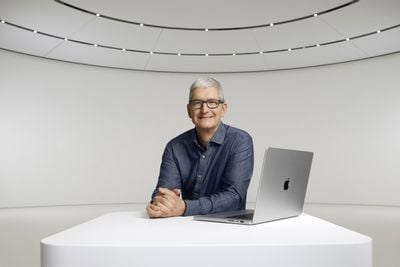 Cook will be taking a substantial pay cut in 2023, as noted by Bloomberg's Mark Gurman. Based on shareholder feedback and Cook's recommendation to adjust his compensation in light of the feedback, the filing indicates that his target compensation for 2023 will be $49 million, which is over 40% less than his target compensation in 2022.
Despite the pay cut, Apple's Compensation Committee said the company had "exceptional performance" in 2022 under the leadership of Cook, who has served as CEO since 2011. The proxy statement indicates that the percentage of performance-based RSUs granted to Cook was increased from 50% to 75% of his 2023 target equity award.
Ahead of Apple's annual shareholders meeting on March 10, Cook shared a message to shareholders reflecting on the past year, with an excerpt below:
The global challenges with us all today — from inflation, to war in Eastern Europe, to the enduring impacts of the pandemic — make this a time for deliberate and thoughtful action. But it is not a time to retreat from the future. We've always run Apple for the long-term, and that means continuing to invest in innovation, in people, and in the positive difference we can make in the world.

Today, we have the strongest lineup of products and services we've ever had, and our technology has never shown up for our users in more ways. And our latest innovations are helping so many of us harness our creativity, connect with loved ones, find entertainment and joy, and live safer, healthier lives.
The full letter can be found on page six of the proxy statement linked above.