CES 2023: Withings Debuts iPhone-Connected Urine Reader That Goes in Your Toilet
Withings today announced the U-Scan, a miniaturized health lab that attaches to a toilet bowl and collects urine for home urine screening. Withings says that urine screening can provide an immediate snapshot of the body's balance, and provide useful monitoring and detecting of a "large variety of health information."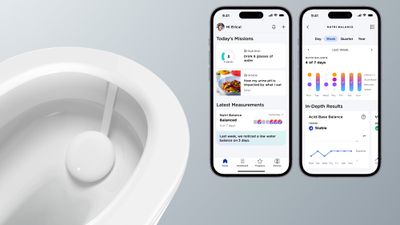 Measuring in at 90mm in diameter, the pebble-shaped U-Scan is designed to collect urine through a collection inlet. When the presence of urine is detected through a thermal sensor, a pump is activated that sends the urine to a specific test pod where a chemical reaction is read by an optical module. The U-Scan can channel urine through multiple pods to take several readings at one time. When the measurement is complete, the urine is purged through a waste outlet and the U-Scan is cleaned when the toilet flushes.
The U-Scan is equipped with dozens of miniaturized test pods that can provide various health readings, with the information sent to the Withings app on the iPhone over WiFi. Each cartridge of test pods lasts for three months before it needs to be replaced, and the reader itself is rechargeable. The Withings app is able to provide results, actionable insights, and guidance based on the urine results.
Withings says that the U-Scan can be used by multiple people as it is able to distinguish between users through a Stream ID feature. Sensors in the reader measure multiple variables to identify an individual user's urine stream by determining the movement and distance of the stream.
U-Scan will launch first in Europe with Nutri Balance and Cycle Sync3 cartridges. The Cycle Sync shows menstrual cycle predictions and an ovulation window for women based on hormonal detection, specific gravity, and pH levels, plus it offers a water balance assessment and a protein-vegetable balance reading.
The Nutri Balance offers an analysis of specific gravity, pH, vitamin C, and ketone levels. It is also able to provide fluid and water balance for finding ideal hydration levels and protein-vegetable balance for optimizing nutritional intake.
Withings is launching the U-Scan in Europe in the second quarter of 2023, and it will be priced at 499.95 euros for the reader and one cartridge. U-Scan will be available in the United States following future FDA testing.