Apple Store in Oklahoma City Becomes Second in U.S. to Unionize
Apple Penn Square employees have voted to unionize, according to Bloomberg's Josh Eidelson. The store, located in Oklahoma City, is the second Apple retail location to form a union in the U.S. following a store in Towson, Maryland earlier this year.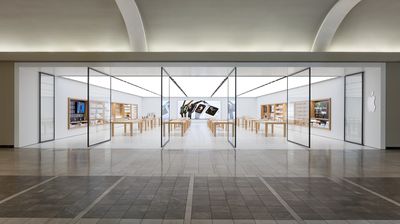 The employees reportedly voted 56 to 32 in favor of joining the Communications Workers of America (CWA) union following an election open to all staff at the store this week. The union now needs to be certified by the U.S. National Labor Relations Board.
In response to Apple Penn Square employees unionizing, an Apple spokesperson shared the following statement with Bloomberg's Mark Gurman:
We believe the open, direct and collaborative relationship we have with our valued team members is the best way to provide an excellent experience for our customers, and for our teams. We're proud to provide our team members with strong compensation and exceptional benefits. Since 2018, we've increased our starting rates in the US by 45% and we've made many significant enhancements to our industry-leading benefits, including new educational and family support programs.
Unionizing gives employees at the store the ability to negotiate for more favorable working conditions and other benefits through collective bargaining.
"Apple workers are determined to organize for better wages and dignity on the job," said CWA Secretary-Treasurer Sara Steffens. "Despite Apple's illegal and aggressive anti-union campaign, Apple retail workers across the country will continue to organize, especially after this momentous victory. The Penn Square Apple retail workers are an amazing addition to our growing labor movement, and we are thrilled to welcome them as CWA members."
Earlier this week, Apple announced plans to offer retail employees additional education benefits and improved healthcare coverage in some states, but it was reported that unionized employees at the Towson store will not receive these benefits automatically and must negotiate through their union, the International Association of Machinists and Aerospace Workers (IAM), as part of their collective bargaining agreement with Apple.
Apple's retail chief Deirdre O'Brien has attempted to dissuade store employees from unionizing in videos played during company meetings, and Apple has been accused of anti-union tactics over the last several months. A vote to unionize at an Apple store in Atlanta was withdrawn earlier this year after Apple reportedly intimidated staff there.
"We have a relationship that is based on an open and collaborative and direct engagement, which I feel could fundamentally change if a store is represented by a union under a collective bargaining agreement," said O'Brien, in one of the videos. "And I worry about what it would mean to put another organization in the middle of our relationship."
Apple has increased starting pay, improved benefits, and addressed some other workplace issues over the last year amid the unionization efforts.
Apple has over 270 retail stores in the U.S. and over 520 worldwide.
Note: Due to the political or social nature of the discussion regarding this topic, the discussion thread is located in our Political News forum. All forum members and site visitors are welcome to read and follow the thread, but posting is limited to forum members with at least 100 posts.