Apple Fitness+ Available to All iPhone Users Later This Fall, No Apple Watch Required
Apple today announced that Apple Fitness+ will be available for all iPhone users to subscribe to, even if they don't have an Apple Watch. Apple says the update will be available later this fall in all 21 countries where the service is offered.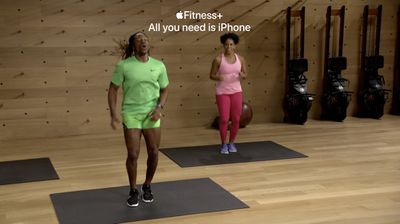 Apple says ‌iPhone‌ users will have access to the entire service featuring over 3,000 studio-style workouts and meditations. Fitness+ users will see onscreen trainer guidance and interval timing, and estimated calories burned will be used to make progress on their Move ring.
Fitness+ will be fully integrated with the Fitness app coming with iOS 16 and located in the middle tab, where users can close their Move ring through awards, activity sharing, and more. Users will only need an ‌iPhone‌ to sign up, and can then experience Fitness+ on ‌iPhone‌, iPad, and Apple TV.

"Since launching just under two years ago, we have heard incredible feedback from users on what a difference Fitness+ is making in their lives. We are thrilled to bring the award-winning service to even more people by making Fitness+ available to all iPhone users later this fall, even if they don't have an Apple Watch," said Jay Blahnik, Apple's vice president of Fitness Technologies. "We can't wait for more people around the world to stay motivated toward their fitness and wellness goals, and live a healthier day."
In addition, Apple says that throughout the fall Fitness+ will introduce new episodes of Time to Walk, the audio experience on Apple Watch designed to help people walk more often, featuring influential people who share stories, photos, and music with Fitness+ users.
Time to Walk has featured 58 guests to date, including Prince William, Malala Yousafzai, Christopher Meloni, Draymond Green, Camila Cabello, Nick Jonas, and many others. As the series kicks off its fourth season, new guests will be added each week.
Time to Run, Apple's audio running experience designed to help users add inspiration to their everyday run, will also add new episodes featuring popular running routes in some of the world's most iconic locations, beginning with Yellowstone National Park in Wyoming; Mexico City; Anchorage, Alaska; Monterey, California; Seattle; and Queenstown, New Zealand.
Lastly, starting Monday, September 12, Fitness+ will add to the popular Artist Spotlight series with new workouts featuring the music of Mary J. Blige, The Rolling Stones, and The Weeknd.
Fitness+ is available in Australia, Austria, Brazil, Canada, Colombia, France, Germany, Indonesia, Ireland, Italy, Malaysia, Mexico, New Zealand, Portugal, Russia, Saudi Arabia, Spain, Switzerland, the UAE, the UK, and the US.