Fan-Favorite Power Mac G4 Cube Design to Return
Apple is planning to resurrect the iconic design of the Power Mac G4 Cube for a new Apple Silicon-powered Mac Pro, according to a recent Bloomberg report.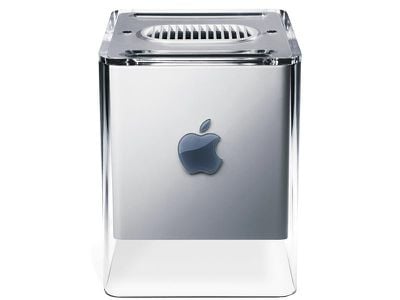 The ‌Mac Pro‌ was last updated in 2019 with a modular tower design, but as Apple transitions the Mac lineup to its own custom silicon, starting with the M1 chip in the MacBook Air, MacBook Pro, and Mac mini, Bloomberg has offered an insight into where the ‌Mac Pro‌ goes next.
Apple's updated ‌Mac Pro‌, featuring an Apple Silicon processor, is expected to be less than half the size of the current ‌Mac Pro‌ tower, putting it somewhere between the existing ‌‌Mac Pro‌‌ and the ‌Mac mini‌. Most interestingly, the report says that the new ‌Mac Pro‌'s design may "invoke nostalgia" for the Power Mac G4 Cube, and feature a mostly aluminum exterior.
The Power Mac G4 Cube was announced in 2000, and was Apple's first miniaturized desktop computer. The machine itself was suspended in an acrylic glass enclosure to give the impression that it was floating. The G4 Cube had no fan and was passively cooled via a grille at the top of the case.
Users could access the machine's internals by inverting the machine and using a pop-out handle to slide the internals out of the shell, which is not dissimilar to the 2013 or 2019 ‌Mac Pro‌ designs. Despite being a commercial failure, the G4 Cube became extremely popular with a small and enthusiastic group of fans who lauded its visionary design.
Apple is believed to be testing high-performance custom silicon chips with as many as 32 high-performance cores for its desktop computers, and 16 to 32-core graphics options are also in development. For its highest-end machines, such as the ‌Mac Pro‌, Apple is working on custom 64 and 128-core GPUs, which would be considerably more powerful than the AMD graphics options Apple uses currently offers.
For professionals who may find the new ‌Mac Pro‌'s design counterproductive or simply are not yet ready to move over from Intel chips, Apple is expected to continue offering an Intel-based ‌Mac Pro‌. This means that it could be one of the sole machines in the Mac lineup to continue to rely on Intel technology. This model, expected to be sold alongside the ‌Apple Silicon‌ ‌Mac Pro‌, is said to be a direct successor to the current ‌‌Mac Pro‌‌ and will use the same design.
There is no word on when the two new ‌‌Mac Pro‌‌ models may come out, but it will likely occur within the two-year timeframe that Apple set out for transitioning to ‌Apple Silicon‌ chips in June last year. In a previous report, Bloomberg said that the ‌Apple Silicon‌ ‌‌Mac Pro‌‌ is planned to launch by 2022.