Apple Negotiating with Hyundai for Apple Car Production [Updated x2]
Apple is planning to work with Hyundai on the upcoming Apple Car, according to a report from Korean site Korea Economic Daily.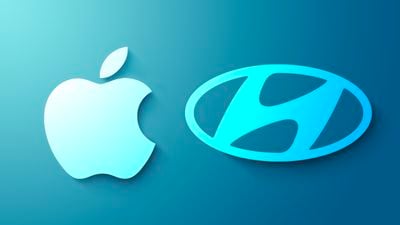 The report suggests that Apple is in negotiations with Hyundai Motor Group to manufacture an ‌Apple Car‌. Apple is said to be planning to work with Hyundai to produce electric vehicles and develop batteries due to the "enormous costs" of the technology and the necessary production facilities.
Multiple prior rumors have suggested that Apple will work with a manufacturing partner to produce the ‌Apple Car‌, but until now, there hasn't been word on which manufacturer Apple might team up with. Since the report mentions "negotiations," a deal may not be established as of yet, so Apple's plans could change.
An ‌Apple Car‌ report earlier today from Bloomberg said that work on the project is still in the early stages and "nowhere near production stage," nor was there a mention of Hyundai. According to Bloomberg, it will be at least five to seven years before an ‌Apple Car‌ is ready to launch.
Update: In a statement to CNBC, Hyundai confirmed that it is in discussions with Apple. "We understand that Apple is in discussion with a variety of global automakers, including Hyundai Motor. As the discussion is at its early stage, nothing has been decided."
Update 2: Bloomberg reports that Hyundai again revised its statement, removing the reference to other automakers. A few hours after that, it issued another revision that omits Apple completely: "We've been receiving requests for potential cooperation from various companies regarding development of autonomous EVs," reads the latest version. "No decisions have been made as discussions are in early stage."