Apple Confirms Commitment to App Tracking Transparency in Letter Condemning Facebook's Data Collection [Updated]
Apple in iOS 14 is planning to introduce a new App Tracking Transparency feature that will let users know when companies want to track them across apps and website. Following outcry from developers like Facebook and ad networks unprepared for the change, Apple delayed the implementation of the anti-tracking functionality until early 2021.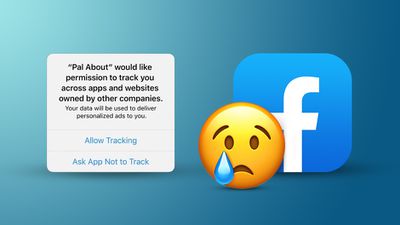 Eight civil society organizations recently sent a letter [PDF] to Apple expressing disappointment over the feature's delay, and Apple today penned a strongly worded response confirming its commitment App Tracking Transparency.
Apple says that it too is concerned about users being tracked without their consent and having their data bundled and resold by advertising networks. Tracking across apps and websites owned by multiple companies and data sold by data brokers can be "invasive and "creepy," according to Apple.
Too often, information is collected about you on an app or website owned by one company and combined with information collected separately by other companies for targeted advertisements and advertising measurement. Sometimes your data is even aggregated and resold by data brokers, which are third parties you neither know nor interact with.
Facebook and other ad networks have complained that Apple's anti-tracking efforts are anticompetitive and will impact small businesses. Apple says it is not against the reasonable collection of user data, but wants to empower customers to make their own choices about what data is collected and how it is used.
In a statement that seems aimed directly at Facebook's complaint about the impact on small businesses, Apple says that advertising that respects privacy was the standard prior to the growth of the internet.
Advertising that respects privacy is not only possible, it was the standard until the growth of the Internet. Some companies that would prefer ATT is never implemented have said that this policy uniquely burdens small businesses by restricting advertising options, but in fact, the current data arms race primarily benefits big businesses with big data sets. Privacy-focused ad networks were the universal standard in advertising before the practice of unfettered data collection began over the last decade or so.
Apple directly calls out Facebook's advertising practices further in the letter after highlighting its own privacy-focused policies.
By contrast, Facebook and others have a very different approach to targeting. Not only do they allow the grouping of users into smaller segments, they use detailed data about online browsing activity to target ads. Facebook executives have made clear their intent is to collect as much data as possible across both first and third party products to develop and monetize detailed profiles of their users, and this disregard for user privacy continues to expand to include more of their products.
Apple's full letter is available to read below, and the missive concludes with a statement that Apple is looking forward to implementing the App Tracking Transparency feature. There is no timeline for when the functionality will be rolling out, however.
Update: In a statement provided to MacRumors, Facebook said that Apple's letter is a "distraction" away from Apple's own privacy issues. Facebook also said that Apple is using its dominant market position to self-preference data collection while making it nearly impossible for competitors to use the same data.
"Apple is being accused of monitoring and tracking people's private data from their personal computers without their customers' knowledge through its latest update to macOS - and today's letter is a distraction from that. They have a history of this. The same happened when it was revealed that Apple had violated people's privacy and allowed millions of people's private audio to be accessed without their knowledge through a vulnerability in FaceTime. In that instance, they enforced against our internal business apps to change the topic. Sadly, we're not perfect and it worked.

The truth is Apple has expanded its business into advertising and through its upcoming iOS14 changes is trying to move the free internet into paid apps and services where they profit. As a result, they are using their dominant market position to self-preference their own data collection while making it nearly impossible for their competitors to use the same data. They claim it's about privacy, but it's about profit. Don't take our word for it. Small business advocates are speaking up about the crushing effect this will have on small business's personalized advertising. As the Executive Vice President for Policy at the Interactive Advertising Bureau said today, 'Don't be fooled: the ad industry is still in a bind & Apple's chokehold on small business is still real...Sadly, for consumers & businesses, it'll change the rules of the game in its favor.' Indeed, we are not fooled. This is all part of a transformation of Apple's business away from innovative hardware products to data-driven software and media."