Apple Unveils Apple Watch Series 6 With Blood Oxygen Monitoring and New Color Options
Apple today announced the new Apple Watch Series 6, sporting several new features including blood oxygen monitoring and multiple color options.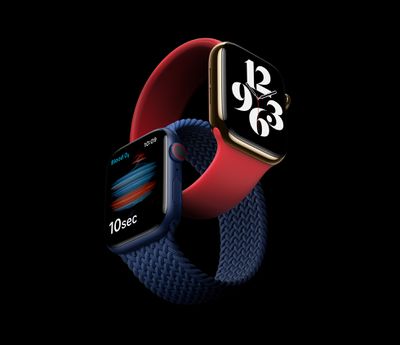 Oxygen saturation, or SpO2, represents the percentage of oxygen being carried by red blood cells from the lungs to the rest of the body, and indicates how well this oxygenated blood is being delivered throughout the body.
With Apple Watch Series 6, users can detect their blood oxygen right from their wrist, thanks to advanced algorithms that measure the color of the wearer's blood. To compensate for natural variations in the skin and improve accuracy, the Blood Oxygen sensor employs four clusters of green, red, and infrared LEDs, along with the four photodiodes on the back crystal of Apple Watch, to measure light reflected back from blood.
It's capable of taking readings manually in 15 seconds, plus it gives periodic background readings, including while the user sleeps. The new Blood O2 feature will also support research studies that explore asthma, heart failure, and flu/covid studies.
The Apple Watch Series 6 includes a new sixth-generation chip, with a dual-core processor based on Apple's A13 chip, which is 20 percent faster than the previous generation model.

"Apple Watch Series 6 completely redefines what a watch can do," said Jeff Williams, Apple's chief operating officer. "With powerful new features, including a Blood Oxygen sensor and app, Apple Watch becomes even more indispensable by providing further insight into overall well-being."
In addition, the Series 6 has a 2.5x brighter outdoor always-on display, including an always-on altimeter.


The always-on altimeter provides real-time elevation all day long by using a new, more power-efficient barometric altimeter, along with GPS and nearby Wi-Fi networks. This feature allows for the detection of small elevation changes above ground level, up and down to the measurement of 1 foot, and can be shown as a new watch face complication or workout metric.
Exclusive to the Series 6 is a new blue aluminum case, an updated classic gold stainless steel, and graphite stainless steel, and an Apple Watch PRODUCT(RED).


There are also new watch faces with the Series 6, including a Tachymeter, MeMoji, Stripe faces to show pride, team colors, and more.
watchOS 7 also brings sleep tracking and will also soon give users warnings for low VO2 Max levels.
Apple Watch Series 6 (GPS) starts at $399 and Apple Watch Series 6 (GPS + Cellular) starts at $499.
This story is part of our ongoing coverage of Apple's virtual "Time Flies" event today. Refresh for more details and follow our live blog.