Apple Watch Getting Hand Washing Feature With 20-Second Countdown and Haptic Feedback
No more having to hum the "happy birthday" song to yourself twice, as the Apple Watch features a new hand washing feature in watchOS 7.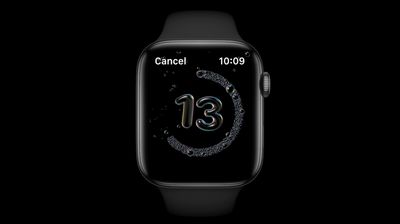 Using its motion sensors and microphone, the Apple Watch automatically detects hand washing and starts a 20‑second timer, which is how long the CDC and many other health organizations recommend washing your hands. If your Apple Watch detects that you've stopped washing your hands early, it will encourage you to continue for the full 20 seconds.
In addition, the Apple Watch can remind you to wash your hands when you get home.
watchOS 7 is available in beta for registered Apple developers today, with a public beta to follow next month. The software update will be released to all users with an Apple Watch Series 3 or newer in the fall.