Yubico, a company that makes physical security keys for two-factor authentication, today announced the launch of its Lightning-based YubiKey device that's designed to work with Apple's iPhones and iPads.
Yubico has long offered USB-A, USB-C, and NFC-based YubiKey options for PCs, Macs, and mobile devices, but this is the first time that a Lightning-based accessory has been made available.


For those unfamiliar with YubiKey, it is a hardware-based two-factor authentication device designed to work with hundreds of services to make your logins more secure. It's often more convenient than software-based two-factor authentication because there's no need to enter a security code - just connect it and tap to authenticate.
The new YubiKey 5Ci, which was first introduced in January at CES, features a Lightning port at one end and a USB-C port at the other end, so it works with Apple's latest iOS devices and Macs, with the exception of the iPad Pro, as it is not compatible with the USB-C side at the current time.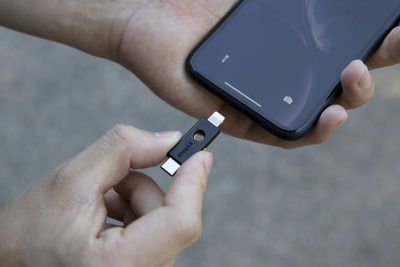 With the YubiKey 5Ci, users can lock down their 1Password, Bitwarden Idaptive, LastPass, and Okta apps with hardware authentication. At the current time, it also works with the Brave browser for iOS, authenticating logins from sites like Twitter, Login.gov, GitHub, Bitbucket, 1Password, and others.


With the 1Password app, for example, you can set up two-factor authentication using the YubiKey to add an additional layer of protection for your 1Password account. This will require both your master password and your physical YubiKey to unlock your vault, with the app instructing you to plug in the YubiKey and touch the side button to confirm.
At the current time, the YubiKey 5Ci for iOS devices does not work with other apps or browsers as app developers and browser creators need to build in support. Yubico says that it is working with other developers through its Yubico Developer Program.
The USB-C side of the YubiKey works with USB-C Windows and Mac machines, and it is compatible with dozens of websites and services, with a list available on the Yubico website.


Like other YubiKey options in the 5 series, the YubiKey 5Ci supports multiple authentication protocols, including IDO2/WebAuthn, FIDO U2F, OTP (one-time password), PIV (Smart Card), and OpenPGP.
Those interested in the YubiKey 5Ci can purchase it for $70 from the Yubico website starting today.
Note: MacRumors is an affiliate partner with Yubico. When you click a link and make a purchase, we may receive a small payment, which helps us keep the site running.