HP's New Dual-Screen Gaming Laptop Takes Apple's Touch Bar to the Next Level
HP today unveiled its first dual-screen gaming laptop, the OMEN X 2S. The notebook's primary 15-inch 1080p display is complemented by a secondary six-inch 1080p touchscreen integrated above the keyboard.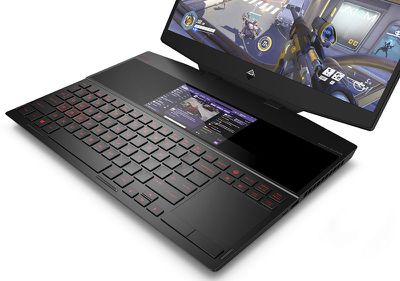 Like the Touch Bar on recent MacBook Pro models, the second screen on the OMEN X 2S is designed for multitasking. For instance, while gaming, players could use the screen to message teammates in Discord, browse music on Spotify, or stream Twitch or YouTube, complete with support for dedicated hotkeys.
One compromise of the second screen is that the trackpad is positioned to the right of the keyboard, rather than in a center position, but HP believes that most gamers would prefer using their own mice, according to Engadget.


As far as specs go, the OMEN X 2S is equipped with up to a ninth-generation Intel Core i9 processor, up to NVIDIA GeForce RTX 2080 graphics, up to 2TB of SSD storage, and up to 32GB of DDR4 RAM. The notebook uses an advanced thermal solution with three-sided venting to enable five-way airflow.
The notebook is 20mm thick with a full metal chassis, but weight and battery life have yet to be disclosed. HP expects the OMEN X 2S to be available by June, with a starting price of $2,100 in the United States.