Powerbeats Pro Feature IPX4 Water Resistance Rating
Apple claims that its new Powerbeats Pro earbuds feature a "reinforced design" that makes them sweat and water resistant, but there are still a lot of questions about what that specifically means given that past Beats headphones have experienced failures due to moisture exposure.
As it turns out, the ‌Powerbeats Pro‌ feature an IPX4 water resistance rating, which means they're certified to hold up to water splashing against the enclosure from any direction, but have the potential to fail when immersed or exposed to jets of water.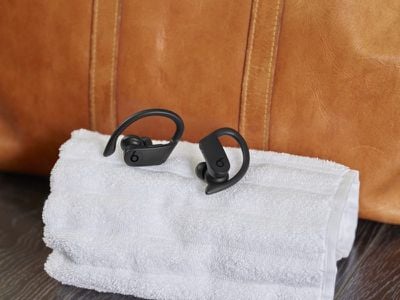 The IP4X rating, as iMore points out, is mentioned in a reviewer's guide that was provided to media sites that have early access to the earbuds. It is not included in Apple's official marketing materials.
Apple promotes the ‌Powerbeats Pro‌ as being resistant to sweat and water, making them ideal for working out and other fitness-related activities. The Verge was told in April that the ‌Powerbeats Pro‌ have been engineered to handle "all of your sweat without fail."
It does not appear that Apple's earlier headphones, such as the BeatsX or the Powerbeats 3, have official Ingress Protection ratings, which may mean that they weren't subjected to testing.
Apple's Powerbeats 3 earbuds were marketed as sweat and water resistant, but there have been reports of failures after extended sweat exposure, which leaves some questions about the ‌Powerbeats Pro‌.
With an IPX4 rating, the ‌Powerbeats Pro‌ should be able to survive sweat exposure, but we're not going to know how they hold up until users have had time to properly test them out over time.
For comparison's sake, the current 2018 iPhones have an IPX7 rating and can survive total immersion in water. ‌Powerbeats Pro‌ should not be submerged in liquids with an IPX4 rating, and you're going to want to keep them as dry as possible.
Avoiding sweat during physical activity is impossible, but keeping them out of the rain and the shower is advised, as is drying them off after a long workout.