Apple CEO Tim Cook on Privacy: 'We Very Much Are on Your Side'
At the Berkshire Hathaway shareholder conference this weekend, Apple CEO Tim Cook sat down for an interview with CNBC's Becky Quick, and that interview aired this morning on Squawk Box.
During the discussion, Cook covered topics like Warren Buffett's Apple investments, Apple's company mission, how Apple runs, internal debate topics, privacy, acquisitions, and more.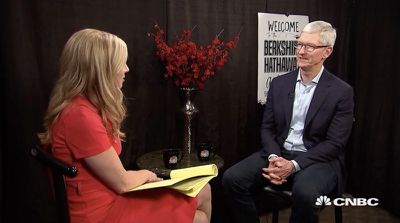 Cook said that when he heard that Warren Buffett invested in Apple stock, he said he thought to himself "Wow, this is really cool." An investment from "the ultimate long-term investor" is an "honor and a privilege," Cook said. "I mean, wow, it's Warren Buffett is investing the company. And yeah, so, it felt great."
Buffett's decision to invest in Apple meant that he viewed it as a consumer company, not a technology company because Buffett doesn't invest in tech companies he doesn't understand. Cook says that while Apple is in the tech industry, the consumer is the company's focus. "We think technology should be in the background, not the foreground," said Cook. Cook went on to reiterate something that he's said many times before - Apple's goal is to enrich people's lives.
Our mission is to make the best products in the world in those areas which we choose to participate that enrich people's lives. And so, if we can't make the best product, we don't go in. If we can make a great product but it doesn't help anybody, it doesn't enrich their life, then we're not going to go into that either. And so that's a pretty narrow funnel then because you're working on a few things. And we know in order to do them at the quality level we want to do them, we can only do a few.
Apple is a large company, but Cook says that in "some ways," it's "like a big startup." Apple is organized, but teams work together on projects and are "empowered to come up with new things." Apple has a "heavy debate culture" where the best ideas are debated. "And then we choose the best of the best to decide what to spend our time on," said Cook.
Apple employees debate on trends, new technologies, features, and categories to enter or not enter. One "healthy debate" was when Apple entered into the smart watch business.
A very healthy debate. And about what it could eventually do for people. And how much emphasis to place on the health and fitness side of that. You know, where to put the the relative balance. You could imagine, there's an incredible set of features in the watch just to do things like curate when you're interrupted, and people are now taking calls on them. And sort of the- the things that you would think is part and parcel to the iPhone, but in a curated manner. And- or you could, to put the emphasis on fitness and health, and so forth. And we've elected to do some of this, in a great way.
Cook said that he himself has always believed that to enrich someone's life, wellbeing is in the "top two or three," and he went on to speak about the importance of democratizing access to health features like the ECG in the Apple Watch Series 4. "Things like this, these are profound things," said Cook.
Privacy comes up in almost all interviews with Cook, and the CNBC interview was no exception. Cook said that privacy is "foundational" to the way that Apple runs, because Apple "works for the consumer." Cook said that Apple feels a "level of responsibility" to protect everything on your phone because of the depth of information that it contains.
But we don't want to use you as our product. And we just have a fundamental issue with doing that. And we've always thought that the building of a detailed profile about your life could result in tragic things. Whether it's a breach of your own privacy or something where the data itself could be used in a nefarious way. And so, we've never thought it was right to do it, and we've always thought that you owned it.
Cook went on to say that he's frustrated tech is seen as monolithic, lumping Apple in with other companies like Facebook. "We don't traffic in your data," said Cook. "We very much are on your side. We also curate our platform."
Pivoting to acquisitions, Cook said that Apple has purchased 20 to 25 companies over the course of the last six months or so, purchasing a company "every two to three weeks." Some of those acquisitions are known, but many of them go under the radar for months and even years.
Cook's interview, with more detail on privacy and other topics, can be watched in its entirety over at CNBC.