Apple Watch Continues to Dominate With Estimated 1 in 3 Share of Smartwatch Sales Last Quarter
Apple Watch remained the world's most popular smartwatch by a significant margin last quarter, with an estimated 35.8 percent market share during the January-March period, according to Counterpoint Research. In other words, one in every three smartwatches shipped last quarter was an Apple Watch.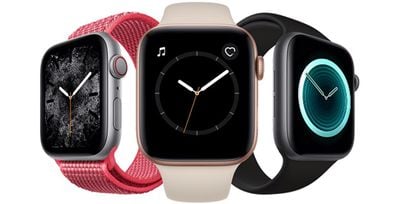 Samsung was a distant second with an estimated 11.1 percent market share last quarter, although that is up from 7.2 percent one year prior.
Apple Watch shipments increased 49 percent last quarter year-over-year, according to Counterpoint Research, but no specific numbers were provided. Apple has never disclosed Apple Watch sales, but its "Wearables, Home, and Accessories" category set a new March quarter revenue record of $5.1 billion.


Counterpoint Research's latest Consumer Lens survey found that ECG functionality on Series 4 models is the Apple Watch's most desirable feature. Apple recently expanded the ECG app to 19 European countries and Hong Kong.
While estimates can vary, it is clear that the Apple Watch continues to dominate the smartwatch market as it celebrates its fourth anniversary.