Apple recently redid the web interface for Podcasts, providing new podcast webpages with a streamlined design that's easier to navigate and built-in web playback.
Each new page features a clear recap of each episode along with a "Play" button for playing an individual episode or all of the episodes in order directly from the web browser without the need to open up iTunes.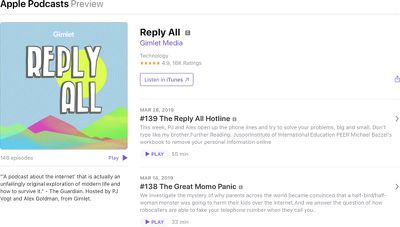 Clicking on an episode's name opens up a full page for the episode in question, so you can see complete details about what's included in each one before deciding to listen.
As 9to5Mac points out, the prior design for podcasts on the web was just a list of podcast episodes that opened up podcasts in iTunes with no web playback option available.
Apple is planning on introducing a standalone Podcasts app on the Mac when macOS 10.15 launches, so this new web look may be a precursor to the future launch of the dedicated Podcasts app.