Apple has offered to spend $9.7 million on new bike and pedestrian-oriented transportation projects in the city of Cupertino, where it has two campuses, reports The Mercury News.
Apple made the offer to city officials last year after hearing of a proposed change to the city's business license tax that would require Apple and other businesses in Cupertino to pay taxes based on the number of people employed.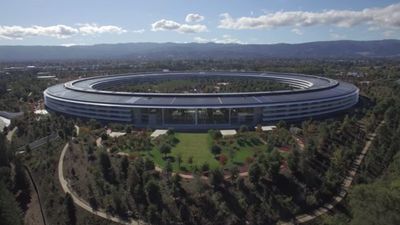 The city last July agreed to postpone the changes, which would have cost Apple approximately $9 million per year for its 24,000 workers.
Changes to the business tax have been postponed until 2020 to give the city time to work with Apple on providing private funding to cut down on commuter traffic in Cupertino. Apple has been attending regular meetings with Cupertino city staff to come to an agreement.
Five projects are planned:
- $4.63 million to fund bikeways along McClellan Road near Lincoln Elementary, Kennedy Middle and Mona Vista High schools. The money would also fund design and construction of two sidewalk improvements and a new signal light at the intersection of McClellan and DeAnza.
- $1.2 million for traffic and pedestrian safety improvements near local schools
- $1.98 million for planning, design and construction of new bike lanes and pedestrian improvements along Bubb Road
- $1.8 million for design and development of the Junipero Serra Trail
- $165,000 toward proposed bikeways on Mary Avenue
Cupertino Vice Mayor Liang Chao said that he's disappointed by the funding level proposed by Apple. "When we were considering the tax, the city would have gotten $10 million in ongoing income," he said. He's also concerned that the money is going towards bike and pedestrian projects rather than efforts to relieve vehicle traffic.
On a March 27 letter to the city council, Apple's VP of real estate and facilities Kristina Raspe said that Apple is looking forward to moving forward on construction. "After much work with the City, we have identified several Phase 1 projects that we are happy to financially support and move forward on as quickly as possible," she wrote.
Apple is said to have approached the council with suggestions for bike and pedestrian improvements as the company had a specific interest in funding alternative transportation projects.
The city council will be voting on whether to accept the funding from Apple at a later date. Apple may also be asked to fund a shuttle project that would connect local transportation hubs and major destinations citywide.
Note: Due to the political nature of the discussion regarding this topic, the discussion thread is located in our Politics, Religion, Social Issues forum. All forum members and site visitors are welcome to read and follow the thread, but posting is limited to forum members with at least 100 posts.