Over 200,000 People Subscribed to Apple News+ in First 48 Hours After Launch
Upwards of 200,000 iPhone, iPad, and Mac users signed up for an Apple News+ subscription following the service's March 25 launch, reports The New York Times.
The number comes from two unnamed sources who provided the figures to The New York Times and asked not to be named.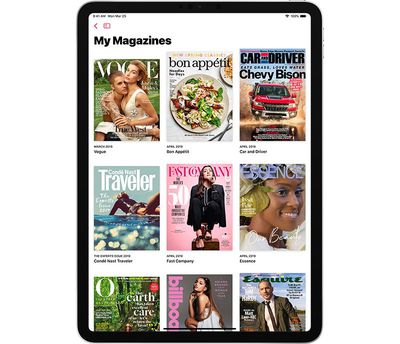 That's more than Texture, the service ‌Apple News‌+ was based on, had during its peak. Apple purchased Texture in 2018 and is shutting it down at the end of May now that ‌Apple News‌+ has launched.
‌Apple News‌+ provides access to more than 200 magazines as well as paywalled news from The Wall Street Journal, The Los Angeles Times, and a few other news publications.
Apple is going to be charging $9.99 per month for ‌Apple News‌+, but those who subscribed following the event have a 30-day free trial. There are still more than three weeks before customers will be charged, and many may be planning to cancel ahead of when the trial expires.
It's still not clear how popular ‌Apple News‌+ will be once that trial period runs out, but many magazines are hoping for the best. Pamela Wassserstein, CEO of New York Media, said that she felt ‌Apple News‌+ would allow New York magazine, The Cut, and Vulture to reach a "new audience" in an environment that "feels right."
Apple takes 50 percent of the subscription price from ‌Apple News‌+, and will be providing the rest to its publishing partners. Media companies will receive an amount based on the amount of time readers are devoting to their content.
This revenue split has been controversial and while many magazines have signed up because Texture worked in a similar way, Apple has been unable to woo major newspapers like The New York Times and The Washington Post.