Apple Was Unable to Ink Apple News+ Deals With WaPo and NYT Despite 'Vigorous Courtship'
Apple was desperate to secure deals with The Washington Post or The New York Times for its recently announced Apple News+ service but was ultimately unable to persuade them to sign up despite a "vigorous courtship," according to a new report from Vanity Fair.
Shortly after Apple's Texture deal last spring, Apple began discussions with the two news sites, putting a "tremendous" amount of pressure on them and promising to significantly increase their readership.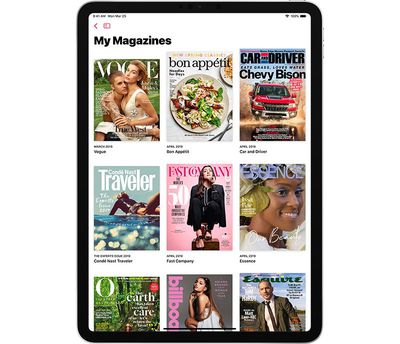 "Eddy Cue was in and out of their offices really trying to woo them." Cue's elevator pitch, according to people familiar with the discussions, was, "We'll make you the most-read newspaper in the world."
Apple was aiming for access to the full content from the two newspapers, rather than a pared down offering or a selection of stories on a specific set of topics. Apple is said to have not wanted "limitations in terms of content."
Neither The New York Times nor The Washington Post could be convinced to join ‌Apple News‌+. Both publications have successful online subscription offerings already. The New York Times charges $15 per month for a basic digital subscription, while The Washington Post charges $10. The newspapers get to keep 100 percent of the revenue brought in by those subscriptions.
Apple wanted to include full access to the content from the news sites for the $9.99 per month asking price of ‌Apple News‌+. According to prior reports, Apple keeps 50 percent of the subscription revenue for ‌Apple News‌+ and splits the other 50 percent among publishers based on how much time is spent consuming their content.
If The New York Times and The Washington Post joined ‌Apple News‌+, their existing subscribers would have little reason to keep paying them $10 to $15 per month instead of paying the $9.99 subscription to ‌Apple News‌+, which would also include other news content and magazines. Apple believes its huge subscriber base would ultimately bring more readers to the news sites, but neither newspaper was swayed by that argument.
Meredith Kopit Levin, the chief operating officer for The New York Times, told Vanity Fair that the newspaper wants to have a direct relationship with its readers.
"We've been pretty deliberate about saying that the best place you can experience journalism is through a relationship with a news provider. So far for us, that has meant a direct relationship with users. The more we have a relationship with users, the better we think our business will be, and the better the experience that we can provide to them."
A spokesperson for The Washington Post said that the paper's focus is on growing its own subscription base, which meant joining ‌Apple News‌+ "just did not make sense" at the current time.
While Apple was not able to secure deals with either The Washington Post nor The New York Times, it did ink a deal with The Wall Street Journal. The full content from The ‌Wall Street Journal‌ is unlocked for ‌Apple News‌+ subscribers even though a standard subscription starts at $19.49 per month for the first year, after which it goes up to $38.99.
There are caveats, though. A limited selection of general news and opinion pieces are promoted through ‌Apple News‌+, and other content from The ‌Wall Street Journal‌ must be manually searched for. ‌Apple News‌+ also only provides three days worth of archives from The ‌Wall Street Journal‌.
According to Vanity Fair, The ‌Wall Street Journal‌ has less to lose than other news sites. Its main subscriber base consists of corporate accounts and "high net-worth individuals" interested in business and finance news rather than the more general news content that will be promoted via ‌Apple News‌+.
Apple has also secured deals with hundreds of magazines, and much of ‌Apple News‌+ comprises access to magazines like National Geographic, Vogue, The New Yorker, and other high profile titles. Magazines also have less to lose than digital sites already offering subscriptions as most don't have established digital subscription businesses.
Publications that do not have large audiences paying for digital access each month have the potential to be more successful with ‌Apple News‌, but for sites like The New York Times and The Washington Post, there's a real risk that joining would cannibalize existing subscribers.
It's not yet clear if ‌Apple News‌+ will ultimately be successful for Apple's media partners, and it's possible that if it is, news sites that have declined joining will do so in the future.
For more on ‌Apple News‌+, make sure to check out our full guide on the subscription service.