Leaked Aquaman Movie Suggests iTunes 4K Stream Cracked for First Time
A 4K version of the movie "Aquaman" has popped up on torrent sites, and, as noted by TorrentFreak, it looks like the file may have come from iTunes, suggesting Apple's protections for 4K content have been breached.
The "Aquaman" file in question, which was shared earlier this week on Reddit, is labeled as a Web-DL, a name used in torrents to denote where it's from. Web-DL indicates a file pulled from a streaming service like Netflix, iTunes, and Amazon.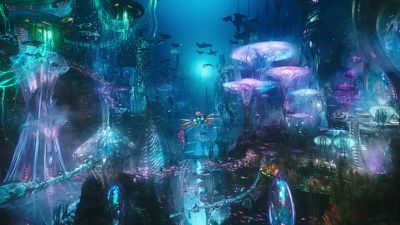 The title, "Aquaman.2018.2160p.WEB-DL.DDP5.1.HDR.HEVC-MOMA," suggests that this is a 4K release that was decrypted directly from iTunes. This is something that has never happened before with a 4K WEB-DL.
The file is indeed in 4K, and it popped up on torrent sites shortly after the movie was released on iTunes. There are no 4K releases of "Aquaman" from Netflix or Amazon, which led to immediate speculation that someone had managed to decrypt the file from iTunes.
4K files from iTunes have never been spotted on piracy sites before, making this a first that the piracy community is excited about. "4k Web-dl, history has been made today for pirates," wrote one reddit user on the r/piracy subreddit.
TorrentFreak says that it's "too early" to jump to conclusions about the origin of the file. While it's 4K, it could be mislabeled. There's a 4K version on VUDU, though the pirated version was uploaded ahead of the VUDU release.
If it is from iTunes, it's not yet clear how it was accessed. 4K content is only available on the Apple TV via tvOS, suggesting that if there's a security hole, it's in the tvOS operating system.
A source who has experience with the matter believes that it most likely comes from iTunes, as advertised. How, exactly, remains a mystery, but there may be a vulnerability in Apple's tvOS.

"Apple has 4k only on Apple TV running tvOS. I assume they skipped checks, if the device is jailbroken, and someone just dumped the encrypted stream and decrypted it via what's in memory as keys," says our source, who prefers to remain anonymous.
Since Aquaman appeared, two additional 4K Web-DL files for "Spider-Man: Into the Spider-Verse" and "Can You Ever Forgive Me?" have surfaced on torrent sites.
If there is indeed a vulnerability that has been exploited by those who pirate movies to access 4K iTunes content, Apple is likely to implement a fix quickly to prevent pirates from stealing additional 4K movies.