Apple Adding 1,200 New Jobs in San Diego at Upcoming Engineering Hub
Apple is planning to add 1,200 new jobs in San Diego at an upcoming engineering hub, which is up from the 1,000 jobs that it promised when announcing the new facility in December.
San Diego mayor Kevin Faulconer and Apple officials announced the news at the Apple Store located in University City's UTC mall.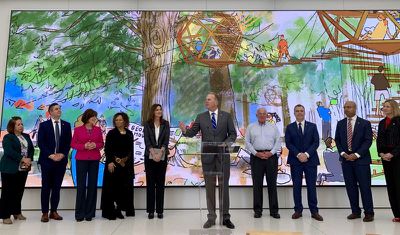 Apple is opening a tech hub in San Diego, and 200 of the 1,200 workers that it is planning on hiring will be in place "by the end of 2019." City officials say that Apple plans to make San Diego, which is the hometown of chipmaker Qualcomm, into a "principle engineering hub" with software and hardware positions "distributed across a number of specialty engineering fields."
Apple is working on its own modem technology and based on job listings, has been targeting Qualcomm employees, many of whom might not want to leave San Diego.
Apple CEO
Tim Cook
said the company is "proud" to establish a bigger presence in San Diego.
Apple has been a part of San Diego for nearly 20 years through our retail presence and small, fast-growing teams - and with this new investment we are proud to play an even greater part in the city's future. You don't have to try too hard to convince people that San Diego is a great place to live, work and do business, and we're confident our employees will have a great home among the community there."
While there's no official announcement on where Apple's new mini campus will be located, San Diego's KGTV says the company is said to be eyeing a building southwest of Qualcomm's main campus in University City. Wherever it's located, the building will include hundreds of thousands of square feet of office, lab, and research space.
Apple's vice president of Global Real Estate and Facilities said that after Apple made its initial announcement about plans to invest in a San Diego facility, the mayor offered details on all San Diego has to offer, leading Apple to increase its investment.
"We were excited to announce in December that we planned to grow our presence here and add one thousand jobs, and then Mayor Faulconer and members of his team very thoughtfully and convincingly walked us through everything the San Diego region has to offer," said Kristina Raspe, Apple Vice President of Global Real Estate and Facilities. "So we went back and sharpened our pencils and increased our investment."
Apple's move to San Diego is part of a wider effort to expand its business across the United States, which also includes a $1 billion campus in Austin, Texas along with new sites in Seattle and Culver City and an additional investment in U.S. data centers.