Apple Watch Sales Comprised Half of Smartwatch Market in 2018
Apple Watch maintained pole position in the smartwatch market over last year's fourth quarter as global smartwatch shipments continued to grow, according to the latest research from Strategy Analytics.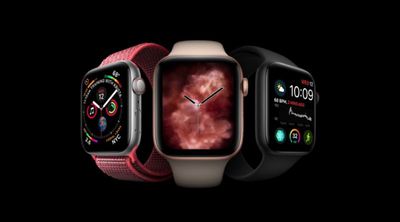 Apple shipped 9.2 million Apple Watch units during Q4 2018, according to the report, rising 18 percent from 7.8 million units in Q4 2017. Global smartwatch shipments meanwhile grew 56 percent annually to reach a record 18 million units in the same quarter.
Apple's global smartwatch marketshare actually slipped to 51 percent this quarter, down from 67 percent a year ago, but Apple held on to first position with a 51 percent global smartwatch marketshare, while Samsung jumped to second place, overtaking Fitbit and Garmin.
The research corroborates an earlier report from consumer research firm The NPD Group that Apple Watch is the "clear market leader" in the U.S. smartwatch market, but it also underlines the growing threat of rivals like Samsung, which continues to invest heavily in wearables that are compatible with both Android devices and iPhones.

"Apple's global smartwatch marketshare slipped to 51 percent this quarter, down from 67 percent a year ago," said Neil Mawston, executive director at Strategy Analytics. "Apple Watch is losing marketshare to Samsung and Fitbit, whose rival smartwatch portfolios and retail presence have improved significantly in the past year."
Apple doesn't reveal Apple Watch unit sales from its overall earnings. But in a recent earnings call for the first quarter of the 2019 fiscal year, CEO Tim Cook said the company's wearables revenue was being driven by the "amazing popularity" of Apple Watch and AirPods, and that the category was "approaching the size of a Fortune 200 company."