Apple Spotlighting Teachers and Students Using Innovative Tech in Schools
Apple today launched a new article series in its Newsroom highlighting teachers and students who use innovative technology in the classroom.
The first article focuses on the Huntington Beach Academy for the Performing Arts (APA) in California, which hosts an annual student-created show called "Playlist."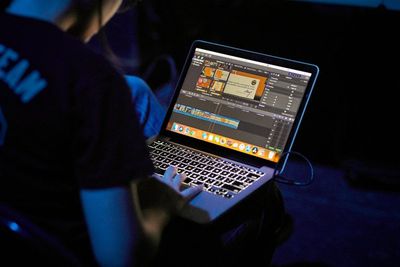 Students at Huntington Beach APA use Apple hardware and software to prepare for the show, such as Final Cut Pro to edit music videos and Logic Pro X to for audio production. Students get hands-on training in theater tech, audio recording, video production, and more as part of their curriculum.
An iPad Pro in the theater powers a Yamaha CL5 digital mixer for controlling sound levels, and students have access to a recording studio and other music creation spaces.
Many of the students are in the Music, Media, and Entertainment Technology program, designed to prepare them to succeed in the music industry. Jamie Knight, who runs the program, says it's imperative to focus on both technology and art, a philosophy Apple has always agreed with.
"We don't just focus on the technology," Knight says. "It's that performing arts experience that gives them leadership skills, confidence, team work, all of those soft skills that businesses want. You have to perform to get that, and then when you marry that with the technology and you give the kids the ability to have a real recording studio to work with, they're going to be the next Steven Spielberg, or the next Paul McCartney."
The school uses Apple products because they are "equipped with tools to teach," such as GarageBand and iMovie.
Apple's full dive into the Huntington Beach Academy for the Performing Arts and its annual "Playlist" production can be read in the Apple Newsroom.