Apple Wins Patent on Long-Delayed AirPods Wireless Charging Case and AirPower
The U.S. Patent and Trademark Office today published a newly granted Apple patent related to an "inductively chargeable earbud case." While the AirPods and AirPower are not named in the patent, the illustrations clearly show an AirPods-like wireless charging case on an AirPower-like charging mat.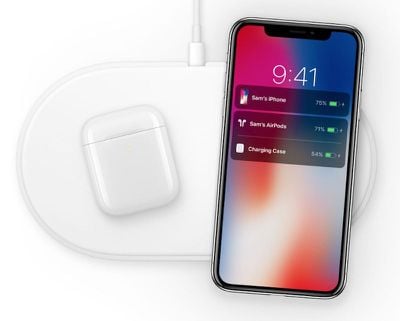 Many current inductive charging mats require precisely aligning a smartphone or other device with the coils inside the mat for the most efficient power transfer. As noted by AppleInsider, however, Apple's patent describes a method that would allow the AirPods case to be placed anywhere on the ‌AirPower‌.
Apple's solution is to use a pair of small charging coils in the case, occupying the bottom left and right hand corners of the rear section, typically the side that would make contact with a charging pad. Both coils would be capable of receiving a charge from a charging pad, effectively doubling its chances of being in an optimal charging position.
This is just one of many patents Apple has been grated for an AirPods-like wireless charging case.
Apple first previewed the ‌AirPower‌ and optional AirPods wireless charging case at its September 2017 event. At the time, Apple promised that the ‌AirPower‌ was coming in 2018, but the year came and went without any release.


Last year, a report suggested that Apple faced technical difficulties with the ‌AirPower‌ that likely delayed its release. Recent reports claim that Apple has since overcome those issues and instructed its suppliers to begin mass production of the ‌AirPower‌, with several rumors hinting at an imminent release.
Just a few days ago, for example, analyst Ming-Chi Kuo said the ‌AirPower‌ and new AirPods case will launch in the first half of 2019.
Multiple sources claim Apple will host a special event at Steve Jobs Theater on Monday, March 25, but Apple's widely expected subscription-based news and video services are expected to be the focus of the keynote. By the sounds of it, there may be few to no hardware announcements at the event.
‌AirPower‌ already had stage time, so a press release could be appropriate for its release, potentially alongside embargoed reviews. Rumored updates to the iPad, iPad mini, and iPod touch also sound minor, with few changes expected beyond faster processors and a slightly larger screen for the 9.7-inch ‌iPad‌, so they could be press release worthy too.