Average U.S. iPhone User Spent $79 on Apps Last Year
iPhone users in the United States spent an average of $79 on App Store games and apps in 2018 according to an upcoming Sensor Tower report shared today by TechCrunch.
At $79, the revenue generated per active U.S. ‌iPhone‌ grew 36 percent year over year, up from an average of $58 spent per ‌iPhone‌ in 2017. ‌iPhone‌ users spent about $21 more in 2018 on in-app purchases and paid downloads.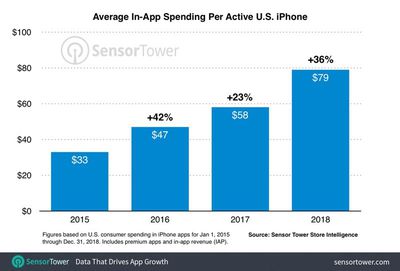 Much of the spending growth came from mobile gaming, with 56 percent of the $79 total average attributed to ‌App Store‌ games.
Spending was also up quite a lot in other categories such as entertainment, music, social networking, and health and fitness.


Sensor Tower believes that subscription apps are a contributing factor for the increased spending in many of these non-faming categories.
Apple's ‌App Store‌ is a major revenue driver for Apple in its services category, with app purchases continually setting new revenue records. The ‌App Store‌ hit a new single-day revenue record on New Year's Day, for example, with customers spending a whopping $322 million.
Over the holiday period including Christmas and New Year's Day, the ‌App Store‌ raked in more than $1.22 billion.