New Razer Blade Stealth vs. Apple's MacBooks
For the last few years, Razer, known for its gaming PCs and accessories, has been making the Razer Blade Stealth, an ultrabook that's quite sleek and snazzy.
We went hands-on with the latest version of the Razer Blade Stealth, released in 2019, to see how it compares with Apple's MacBook options.
The Razer Blade Stealth, for those unfamiliar with it, is a 13-inch ultrabook offering solid performance in a slim, compact package. It has an aesthetic reminiscent of the MacBook Pro, which is also super slim, but it looks quite a bit different with a black aluminum unibody and squared edges.
Most notably, the Razer Blade Stealth has an option for a 4K display, which is the version we have on hand. You might think a 4K display would look way better than the the lower-resolution displays on Apple's Retina MacBook Air and MacBook Pro, but on such a small machine, it's not as noticeable as you'd expect.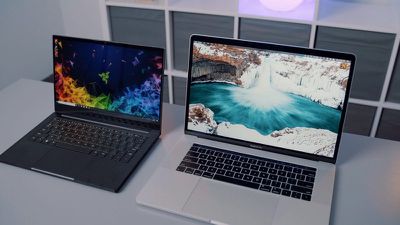 The display is touch sensitive, which is not a feature on Apple's laptops, and it has super narrow side bezels so it has a clean, modern look. The keyboard has more travel than the butterfly keys of the MacBook line, but not as much clickiness, and there's a full set of physical function keys instead of a Touch Bar.
This is Razer we're talking about, so naturally there's customizable RBG backlighting for the keyboard that can be set to different colors and themes. There's a much smaller trackpad, but it's still nice to use and one of the better non-Apple trackpads we've tried. There's no fingerprint sensor like on the MacBook Pro and ‌MacBook Air‌, but there is a Windows Hello facial recognition option.


When it comes to ports, the Razer Blade Stealth has two USB-C ports and two USB-A ports, along with a 3.5mm headphone jack. Just one USB-C port is Thunderbolt 3 capable, compared to four on all of Apple's USB-C MacBook Pro models.
The Razer Blade Stealth is equipped with 16GB RAM, a quad-core 1.8GHz 8th-generation Intel Core i7 processor, and a dedicated Nvidia GeForce MX150 graphics card. Apple's 13-inch MacBook Pros, the closest in form factor to the Razer Blade Stealth, have an integrated GPU.
Benchmarks indicate the Razer Blade Stealth outperforms the 13-inch MacBook Pro, especially when it comes to the GPU. That's not unexpected, though, because Razer is a gaming company. Razer also sells the Razer Blade Stealth alongside the Razer Core X external GPU to offer desktop-quality gaming.


In our testing, the Razer Blade Stealth did well with everything we threw at it, including browsing the web, watching videos, editing video with Adobe Premiere Pro, and some light gaming. Unigine Heaven benchmarks required us to drop the resolution to 1080p from 4K to get 60 to 70 frames per second, though, and it struggled at the full 4K resolution for gaming.
On an OpenCL test, the Razer Blade Steath scored 47,237 with the GeForce MX150 and 36,488 for the integrated Intel Graphics 620. For comparison's sake, the built-in GPU in the 2018 15-inch MacBook Pro scored 23,624, and the AMD Radeon Pro 555X scored 50,257. That's a little bit like comparing apples to oranges, though, as the 15-inch MacBook Pro is a bigger machine and the 13-inch model, which is a closer comparison to the Razer, has no dedicated graphics.
Battery life in the Razer Blade Stealth is okay. It's lasted for about six hours for tasks like web browsing and emails, but for more system intensive tasks, it can drain in less than three hours because of the power draw of the 4K display.


When it comes to price, Razer is charging a premium for its ultrabook, much like Apple does with its notebooks. The 4K 13-inch model we have on hand with the MX150 graphics card is priced at $1,900, though Razer offers lower tiers priced at $1,600 (no 4K) and $1,300 (no 4K and integrated graphics).
Given these price points, the Razer Blade Stealth is tough to recommend over other PC options, but it's powerful, portable, and gorgeous. What do you think of the Razer Blade Stealth? Let us know in the comments.