Waffle, Flamingo, Otter, Sloth, Skunk, and Garlic Among New Emojis Coming to iOS in 2019
More than 200 new emojis will be coming to iOS later this year, with the Unicode Consortium officially approving the final 2019 emoji list.
Emojipedia has a full list of all the emoji we can expect to see in 2019, including flamingo, otter, waffle, sloth, white heart, people holding hands, ice cube, snorkel, orangutan, juice box, falafel, and more.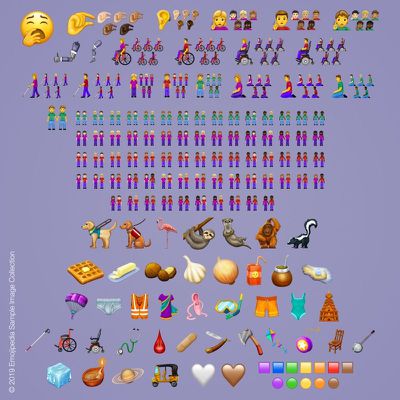 The 2019 emoji lineup will introduce new emojis to represent people with disabilities, such as person in wheelchair, guide dog, service dog, and deaf person. It will also include support for mixed race couples.
There are 59 new emoji characters, 75 with gender variations, and 230 total emojis when both gender variations and different skin tones are counted.
Now that the Unicode Consortium has finalized the list of 2019 emojis, smartphone makers, social media networks, and others are free to implement the new characters, but must design the new icons first.
The emoji in the Emojipedia images are just representations of the new emoji characters and do not reflect the design that Apple and other smartphone makers will use.
It typically takes Apple several months to introduce support for new emoji characters. In 2018, for example, Apple did not add the new 2018 emojis until the October iOS 12.1 update. Apple is likely to do something similar for iOS 13, so we could see the new emoji come as part of an iOS 13 update after the new operating system is released.