Gruber: Apple TV is Sold at Cost, HomePod at Slight Loss
On the latest episode of The Talk Show, Daring Fireball's John Gruber discusses Apple TV and HomePod pricing and whether Apple is charging too much for some of its products.
According to Gruber, Apple is actually selling the 2017 ‌Apple TV‌ 4K at cost, suggesting the device costs Apple $180 to make. As for the ‌HomePod‌, Gruber said he believes Apple sells it at a loss.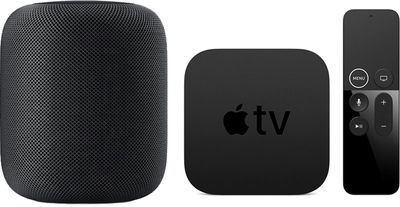 One thing I've heard from reliable little birdie is Apple effectively sells [the Apple TV] at cost. Like they really are like a $180 box. And you think wow this is amazing, it has an A10 processor which we know is super fast, it has crazy good graphics.

I've heard the same thing about HomePod too. Why is HomePod so much more expensive than these other speakers you can talk to? HomePod I actually have reason to believe, Apple actually sells it at a loss. I can't prove it. I don't think it's a big loss.
Apple sells the 4K ‌Apple TV‌ for $180, and the ‌HomePod‌ for $349, though the ‌HomePod‌ at least is often available at a discount from third-party retailers. When the ‌HomePod‌ was released, estimates suggested it cost $216 to make in raw components, which does not factor into account other costs like research and development, software creation, and more.
Both the ‌Apple TV‌ 4K and the ‌HomePod‌ are priced higher than competing products from other companies like Amazon and Google, and rumors have suggested that Apple is working on lower-cost versions of both devices. For the ‌Apple TV‌, Apple is said to be developing a stick-style ‌Apple TV‌ device, and for the ‌HomePod‌, rumors suggest a smaller, cheaper model is in the works.
Gruber said that he also suspects the AirPods are priced close to cost as well, though he's not sure and can't prove it. And, of course, over time, things become less expensive to manufacture as component costs come down. Something that cost $180 in 2017 might not cost the same in 2019, as an example.
Overall, Gruber says that Apple isn't pricing its products too high, it's developing products that are too good.
"If you think it's a problem that these products are so expensive compared to their competition, that too few people buy them, it's not because Apple is charging too much, it's because Apple engineered and designed too good of a product," said Gruber.
(Thanks, Ryan Jones!)