AirPods 2 Support for 'Hey Siri' Already in iOS 12.2 Beta
The iOS 12.2 beta, which was seeded to developers this morning, includes a hidden setup screen that confirms Apple's work on a new version of the AirPods with a "Hey Siri" feature.
The new setup screen, which was uncovered by 9to5Mac, indicates AirPods users will be able to activate ‌Siri‌ with a "Hey ‌Siri‌" command. The currently available AirPods do not support "Hey ‌Siri‌" functionality, and rumors have suggested Apple is working on a second-generation version.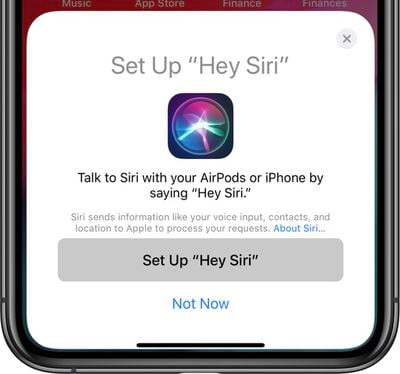 When the second-generation AirPods are available, users will be asked to set up the "Hey ‌Siri‌" feature when pairing the AirPods to an iOS device for the first time. With "Hey ‌Siri‌" activated, AirPods users will be able to ask ‌Siri‌ questions without the need to tap on the earphones.
Rumors of second-generation AirPods have been circulating for some time, and "Hey ‌Siri‌" functionality has been an expected feature. Apple itself showed off "Hey ‌Siri‌" capabilities on the AirPods during the introduction to its September 2018 keynote event introducing new iPhones.
The inclusion of the "Hey ‌Siri‌" setup menu in iOS 12.2 perhaps suggests that we're nearing the release of second-generation AirPods.
We've also been expecting second-generation AirPods to feature a wireless charging case to be used with the AirPower, and the delay of the ‌AirPower‌ has presumably led to the delay of the new AirPods. It's not clear if Apple is planning to release an AirPods update without the ‌AirPower‌, but in recent weeks, we've heard rumors suggesting the ‌AirPower‌ is finally being manufactured, which means we could see a release in the next few months.
Yesterday, a new AirPods rumor from DigiTimes suggested Apple would introduce next-generation AirPods with an unspecified "health monitoring" feature during the first half of 2019. Whatever health functionality ‌DigiTimes‌ is talking about could be included alongside wireless charging and the confirmed "Hey ‌Siri‌" feature.
Reliable Apple analyst Ming-Chi Kuo has also said that we can expect new AirPods to be released in early 2019.