HomePod Now Counts Toward Apple Music Device Streaming Limits for Single Memberships, Apple Encouraging Family Upgrades
When it launched, Apple's HomePod smart speaker did not count toward an Apple Music subscription's device streaming limit. This meant that single-user Apple Music subscribers could stream one song on an iOS device and another on HomePod simultaneously, without one stream ending the other. Recently, this ability has disappeared for many Apple Music users, who are now unable to stream music on both HomePod and an iOS device at the same time.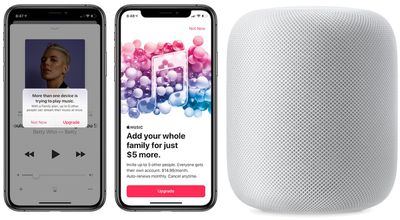 While single memberships transition to this method of HomePod streaming, Apple Music family memberships will be able to continue to stream multiple songs on both iOS devices and HomePod without any of the streams getting interrupted. Moreover, when HomePod interrupts music streaming on an iPhone, a new pop-up box on iOS displays an option for single membership subscribers to upgrade to an Apple Music family plan. The box explains that up to 5 other people can stream their music at once using the family plan.
According to a tipster, posts on Reddit, and a few accounts on the MacRumors forums dating back to last summer, the timeline for this change is murky. As far back as August 2018, MacRumors user cczhu mentioned not being able to play music on both HomePod and Apple TV simultaneously. Similar experiences were shared later in the year, with HomePod counting towards an account's device streaming limit when playing Apple Music on other Apple products, and now it appears that this tweak has hit many more users.
Over the weekend, a few users on r/HomePod posted similar stories. According to Reddit user veteran_t, on Saturday they noticed music playing on their iPhone paused a playlist on their HomePod. Deciding to speak with Apple Support, a senior specialist told the user that any claims about HomePod not counting toward an Apple Music subscription's device streaming limit are third party quotes. The specialist continued by saying Apple never advertised this feature and that veteran_t's HomePod is now working in the originally intended way.
(Thanks, Jason!)