HomePod Music Streams Don't Count Toward Apple Music and iTunes Device Limits
Yesterday, reviews for the HomePod launched online and with them new details about Apple's smart speaker began emerging ahead of its release date on February 9. One new tidbit of information came from Rene Ritchie's review of the speaker on iMore, which confirmed that any music streamed via HomePod does not count toward an Apple Music subscription's device streaming limit. Additionally, HomePod does not count toward the 10 device limit placed on devices associated with an Apple ID.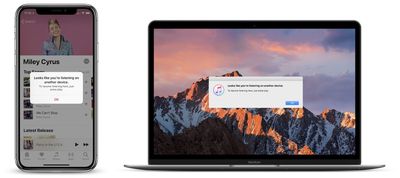 This means that subscribers with single memberships to Apple Music will be able to ask Siri to play a song on HomePod while listening to music on another iPhone, iPad, or Mac. Prior to HomePod, if single membership users streamed Apple Music on an iPhone and then began listening to music on a Mac, for example, the iPhone would disconnect from the music and serve up a warning about the new stream.
#HomePod doesn't count against any simultaneous device or streaming limits. Set up 10 of them. Leave the house. Listen on your iPhone. Everyone at home can still listen on any/all HomePods. (That part's glorious.) https://t.co/6u4sQbU5Pm — Rene Ritchie (@reneritchie) February 6, 2018
When users get their HomePods this weekend, it appears that they won't have to worry about the speaker taking up similar streaming limits on their Apple Music accounts. Apple Music family plans already support simultaneous streaming across multiple devices, but the HomePod feature should work the same for those users as well.
That includes HomePod not counting against any Apple Music device or concurrent stream limit — set it up one or more HomePods with your iPhone or iPad, leave the house with that device, and anyone who stays or comes home can still listen to Apple Music on any or all the HomePods you've set up.
Another small tidbit relates to how HomePod affects each user's music recommendations within the "For You" tab of Apple Music. According to The Loop's Jim Dalrymple, there's a toggle in the HomePod section of the Home app (where the speaker will be controlled on iOS devices), and turning it off allows users to prevent the HomePod's streams from impacting how Apple Music's algorithms recommend new music.
When using the feature, no music streamed via HomePod will count towards the subscriber's overall taste profile, but if users want HomePod streams to affect recommendations they can ignore the setting.

One thing about having multiple people access the HomePod that bothered me was that it would affect my "For You" section in Apple Music.

When you love songs, play songs and add songs to your library, Apple Music will suggest similar music, assuming that is what you want. If someone else, or a group of people come over and start playing genres you don't like, it would screw everything up.

Well, it turns out I didn't have to worry about that after all. There is a setting in the Home app that allows you to prevent the music played on HomePod from affecting the "For You" section of Apple Music.
This way, when users know a lot of people will be around the HomePod -- at a party, for example -- they can toggle the setting off. Then, if other people begin asking HomePod to play music that doesn't particularly align with the tastes of the main account, that Apple Music subscriber's New Music Mix and other song/artist recommendations won't be thrown off.
The same setting will also control the albums and playlists that appear on an Apple Music profile. In leaked screenshots posted by iGen in January, it was confirmed that turning off this one setting will prevent both music recommendations from being affected as well as "Listening To" history from being updated. It also synchronizes the playback status of podcasts on all devices connected to the same Apple ID.
If you're interested in reading up on everything else we know about the HomePod so far, be sure to check out our full HomePod Roundup.