Mophie Launching iPhone XS, iPhone XS Max, and iPhone XR Juice Pack Battery Cases in Early 2019
Mophie, a popular Apple-certified accessory maker, has today announced that all-new Juice Pack Access battery cases for the iPhone XS, iPhone XS Max, and iPhone XR will be available in the first quarter of 2019.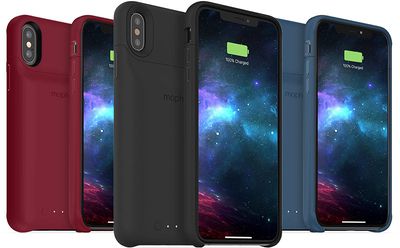 The juice packs extend the battery life of the iPhone XS by up to 25 hours, and the iPhone XS Max and iPhone XR by up to 31 hours, according to Mophie. The cases can be charged with an included USB-C cable or wirelessly on any Qi-certified mat. With pass-through charging, the iPhone charges first, then the case.
The cases have battery capacities of 2,000 mAh for the iPhone XS, 2,200 mAh for the iPhone XS Max, and 2,000 mAh for the iPhone XR. Four LEDs on the back of each case indicate the charged level of the battery pack.
Each case features an impact-resistant polycarbonate exterior with a soft-touch finish, while raised corners provide added protection against scratching and cracking the display. The open-bottom design provides full access to the Lightning connector on each iPhone for normal use of headphones and other accessories.
Mophie says built-in protection circuitry prevents overcharging and overheating, and each juice pack is very likely certified by Apple under its Made for iPhone program, but we're reaching out to the company for confirmation.
The new Juice Pack Access cases for the iPhone XS, iPhone XS Max, and iPhone XR will each retail for $119.95 in the United States on Mophie's website, where customers can sign up to be notified when orders begin. The cases will be available in a variety of colors, including black, gold, navy, and red.
Mophie is showcasing the new Juice Pack Access lineup at CES 2019 in Las Vegas. The iPhone XS version is also compatible with the iPhone X.
Apple is rumored to debut an iPhone XS Smart Battery Case, but has yet to do so.