Apple Seeds Third Beta of iOS 12.1.3 to Developers [Updated]
Apple today seeded the third beta of an upcoming iOS 12.1.3 update to developers, three weeks after releasing the last beta and a little over three weeks after releasing iOS 12.1.2, an update that focused on bug fixes for the eSIM feature and changed certain iPhone features in China after a Chinese court found that some iPhones infringe on Qualcomm patents.
Registered developers can download the new iOS 12.1.3 beta from Apple's Developer Center or over-the-air once the proper configuration profile has been installed from the Developer Center.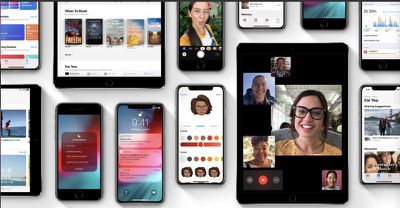 The third iOS 12.1.3 beta is technically the second beta, but because iOS 12.1.3 includes the same updates that were supposed to be included in the iOS 12.1.2 beta that was released earlier, Apple released the initial iOS 12.1.3 as a second beta rather than a first beta.
Apple seeded one beta of iOS 12.1.2 before tweaking the software to include some emergency bug fixes and the aforementioned software changes in China, rushing the update out and pushing content originally planned for iOS 12.1.2 to iOS 12.1.3 instead.
iOS 12.1.3 will mark the fourth update to iOS 12. We don't yet know what features are included, and no major changes were found in the original iOS 12.1.2 beta that was the precursor to iOS 12.1.3 or the first beta labeled 12.1.3. As a 12.x.x update, iOS 12.1.3 likely focuses on minor changes, bug fixes, and operating system tweaks. If we find anything new in the "third" iOS 12.1.3 beta, we'll update this post.
Update: Apple has also made a new beta of iOS 12.1.3 available to public beta testers.