For MacRumors readers who continue to believe in Santa Claus or for those who have young children, Google today launched its annual Santa tracking feature, allowing Santa to be tracked in real time on his journey from the North Pole as he prepares to deliver presents around the world.
Google has offered its fun Santa tracking feature for fifteen years now, providing a little digital magic for children across the globe.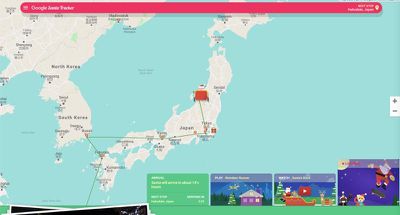 You can track Santa using a web browser on an iPhone, iPad, or Mac by visiting Google's official Santa tracking website. The site is designed to show a live map of Santa's current location, his next stop, a live video feed of his journey, and the estimated time that he will arrive in your location.
The website provides pictures of locations Santa has already visited, a live count of gifts that have been delivered, and his current distance from your location. There are also a selection of games to play and videos to watch on the site.


There are also other Santa tracking services, such as the NORAD Tracks Santa Claus app and website, but Google's is the most detailed and the best option to check out if you want to enjoy a bit of holiday fun.
At the time this article was posted, Santa was spotted in Nigata, Japan, after having just visited Tokyo.