Apple Shares Revamped Transparency Report Website With Easier-to-Parse Data
Apple today released its latest transparency report, outlining government data requests that it received from January to June 2018.
Apple's latest report has been shared on a totally overhauled transparency website that also features past reports in a more visually digestible format, making it much easier to go through the data.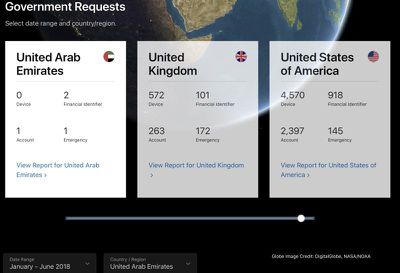 Apple's previous reports were delivered via PDF and could be difficult to parse, but the new site features a country-by-country breakdown with further details split into different request categories.
A provided slider lets you scroll through each country, while a date range dropdown lets you select either the most recent report or past reports. Collapsible categories offer up at a glance information on data like total device requests, emergency requests, requests for account deletion, FISA requests, and more.
Apple is now providing data on national security requests in bands of 500 instead of 250, in an effort to standardize its reporting with other tech companies, according to TechCrunch. FISA content is being broken down further into categories like photos, emails, contacts, and device backups.
PDFs of Apple's transparency reports continue to be available for those who prefer that format, and Apple has made CSV files available for download for those who want an even deeper look into the data.
Based on Apple's latest report, device data requests are on the rise around the world. Apple received a total of 32,342 requests covering 163,823 devices, providing data for 25,829 of the requests, an 80 percent data delivery rate.
In the United States, Apple received 4,570 requests for device data and responded to 3,697, providing data for a total of 81 percent of requests. Apple also received requests for financial identifiers, accounts, and emergencies, with the company's response rate listed in the chart below.


Germany made the most requests of Apple due to stolen device investigations, which is explained in a new "Matters of Note" section at the bottom of each category breakdown. Account requests were up in China and the United States, for example, due to a fraud investigations.
Apple received between 0 and 499 national security orders impacting between 1,000 and 1,499 accounts. Apple did not reveal any national security letters with lifted gag orders, which are reported on a six-month delay.
The full details of Apple's latest transparency report can be found on the company's transparency website.
Note: Due to the political nature of the discussion regarding this topic, the discussion thread is located in our Politics, Religion, Social Issues forum. All forum members and site visitors are welcome to read and follow the thread, but posting is limited to forum members with at least 100 posts.