Facebook Uses IP Address and Other Info to Deliver Location-Based Ads Even When Location Options are Disabled
If you've noticed Facebook continuing to deliver location-based ads even with all location services disabled, you're not alone, and that's because Facebook continues to use data like your IP address to determine your location for ad delivery purposes.
Facebook's lack of an option to disable location tracking for ad targeting was highlighted in a Medium post shared today by Aleksandra Korolova, assistant professor of Computer Science at USC.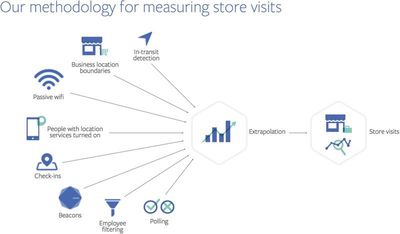 Korolova noticed that Facebook was continuing to provide location-based ads even after she disabled Location History, turned off the location services option for Facebook on her iOS devices, and removed her city from her profile. She didn't upload photos, tag herself at certain locations, or check in, nor does she allow WhatsApp, Instagram, and Facebook Messenger to access her location.
Nevertheless, Facebook showed me ads targeted at "people who live near Santa Monica" (which is where I live) or "people who live or were recently near Los Angeles" (which is where I work). Moreover, I have noticed that whenever I travel for work or pleasure, Facebook continues to keep track of my location and use it for advertising: a trip to Glacier National Park resulted in an ad for activities in Whitefish, Montana, a trip to Cambridge, MA -- in an ad for a business there, and a visit to Herzeliya, Israel -- in an ad for a business there.
As it turns out, and as Facebook explains on its ads page, it is collecting location data based on "where you connect to the Internet" and "where you use your phone," aka your IP address, Wi-Fi, and Bluetooth data. As Korolova points out, Facebook does not explain that turning off all location services will not stop Facebook from "going to great lengths to obtain and use location data for advertising."
Facebook does not make it a secret that it is using IP addresses and other information for ad targeting, but most people are likely not aware that their locations are still being tracked in this way even after disabling location tracking settings.
Facebook, Korolova argues, should do better, because the locations that a person visits and lives in can reveal a lot about them, and that's info that any Facebook advertiser can take advantage of through ads. Facebook should be providing "meaningful" tools over the location information that it's collecting, rather than options to disable location services that don't actually mean anything because location data is still being collected over IP address.
In statements provided to Gizmodo, Facebook confirmed that it's using IP information for location tracking purposes and that there's no way for users to turn off location tracking entirely.
"There is no way for people to opt out of using location for ads entirely," a Facebook spokesperson told Gizmodo. "We use city and zip level location which we collect from IP addresses and other information such as check-ins and current city from your profile to ensure we are providing people with a good service--from ensuring that they see Facebook in the right language to making sure that they are shown nearby events and ads for businesses that are local to them."
If you use Facebook, there is no way to prevent Facebook from tracking location, except perhaps by enabling a VPN at all times. Quitting Facebook and deleting the app entirely is the only way to make sure the site isn't tracking you, and even then, Facebook has "shadow profiles" with data on people who don't even use the social network.