Apple Still Charging Customers Over $300 for iPhone 7 Microphone Defect Despite Previously Offering Free Repairs
In May of 2018, Apple acknowledged a microphone issue affecting some iPhone 7 and iPhone 7 Plus models running iOS 11.3 or later in an internal document made available to Apple Stores and Apple Authorized Service Providers. MacRumors obtained the document from a reliable source earlier this year.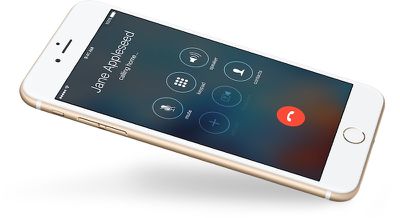 An excerpt from Apple's document:
Some customers might report that after they've updated to iOS 11.3, the microphone on their iPhone 7 or iPhone 7 Plus doesn't work and the speaker button is grayed out when they make or receive a call.

Symptoms:
- The speaker button is grayed out during calls
- Other people are unable to hear the customer on cellular or FaceTime calls
- If a customer plays back a video or voice memo that they've made after installing iOS 11.3, there is no sound
Apple's document then provided troubleshooting steps for its service providers to follow, including disconnecting any Bluetooth headsets or accessories connected to the iPhone. If the issue persisted, and the iPhone was out-of-warranty, Apple advised service providers to "request a warranty exception" with the company.
For a short time, Apple Stores and Apple Authorized Service Providers were able to proceed with repairs at no cost to the customer.
"I just had my wife's iPhone 7 replaced this morning," wrote one MacRumors forum member on July 30, 2018, in a discussion topic about the issue. "Out of warranty and Apple took care of the bill. The mic on the device had failed."
The exemptions abruptly ended in July of 2018, though, when Apple deleted its internal document related to the microphone issue and prevented free repairs from being processed through its service portal. Since then, many Apple retail and support employees have refused to acknowledge the policy ever existed.
MacRumors has received several emails from affected customers since we published our article in July, but there has been little we can do to help. Apple did not respond to our original request for comment, so we've followed up today.
The microphone issue appears to remain a problem as of iOS 12.1.1, but Apple's document never identified a cause. Based on the number of users affected, it is almost certainly a hardware defect, so it's unclear why Apple is no longer offering free repairs and forcing customers to pay out of pocket for a fix.
Apple's out-of-warranty repair fee for this issue is over $300 in the United States, according to affected customers on the MacRumors forums and Twitter. iPhone 7 and iPhone 7 Plus devices still within Apple's limited one-year warranty period or covered by AppleCare+ remain eligible for a free repair.
"I had this issue a month ago and paid $349 for a replacement," said one MacRumors reader in an email. "Two weeks ago my brother in law started having the same issue with his iPhone 7 Plus and today my wife's iPhone 7 started doing the same thing. It's a new phone and barely 15 months old."
"Unfortunately, I like hundreds have been told by Apple that 'we don't know what you're talking about,' and Apple wants $319 to send me a refurbished phone that they can't tell me won't have the same problem," another reader emailed.
Twitter is home to similar complaints:

so ios 12 broke all of my iphone 7's microphones and apple wants $320 to replace it... what do i do — michael (@meantomatoes) December 6, 2018
Called @AppleSupport because iPhone 7+ microphone stopped working during calls. It's a common issue, not damage. Their answer: pay us! Apple doesn't support its products or customers. #Pixel3 looking pretty good... https://t.co/LQJS37yEYc — Michael Seth (@wolfms) November 24, 2018
@Apple I upgraded my Iphone 7 to IOS 12.1 - it just stopped working, does not work speaker, microphone, does not make calls, I do not hear anything.
It was u updated the software to 12.1 and stoped everything. — Ana Carol Oliveira (@anacsso) November 3, 2018
@AppleSupport @AppStore you guys have some shaddy gray policies about your products. I have an iphone 7 Plus with a grayed out microphone, issue wich applies for a recall product, i went to an apple store and they told me I have to pay 475 usd to get it solved. — Paola Valdez (@paola0666) October 21, 2018
It's worth noting that a few customers have managed to argue their way to a free repair, but this is not the common result.
Apple has a track record of great customer service, and it offers several different public repair programs for hardware issues on various products, but it appears to be leaving customers in the dust here for reasons unclear. We'd love to hear Apple's side of the situation if the company chooses to respond.
In the meantime, repairs can be initiated by booking an appointment at a Genius Bar or at an Apple Authorized Service Provider via the Contact Apple Support page: iPhone → Repairs & Physical Damage → Unable to Hear Through Receiver or Speakers → Built-in Speaker → Bring In For Repair.