DxOMark: iPhone XR is 'Best Single-Cam Smartphone We've Tested'
DxOMark today published the results of its in-depth analysis of the iPhone XR's single-lens rear camera. Apple's flagship smartphone achieved an overall score of 101 points, surpassing Google's Pixel 2 to make it the top-ranked single lens phone in the site's rankings.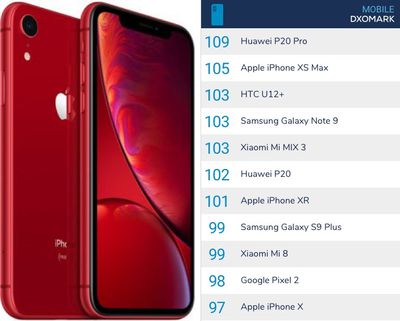 In its testing, DxOMark found the iPhone XR to offer "a very similar proposition for image quality as the flagship iPhone XS Max," across key photo attributes like exposure, color, detail, noise, and artifacts.
Both devices also achieved the same overall score for video, but the dual lenses of the iPhone XS Max meant the XR fell behind on zoom and bokeh shots, although DxOMark noted that Apple had managed to improve the flash on the more affordable single-lens iPhone.

Colored panels shot on iPhone XR
The review adds that the iPhone XR has very good exposure and dynamic range in bright light and indoor conditions, while detail is well-preserved in all lighting conditions with "vivid and pleasant colors in most situations."

Apple iPhone XR, HDR test scene
The few cons the review noted included the visibility of fine grain luminance noise in indoor and low-light conditions, while video was criticized for instabilities in white balance when filming indoors.

Apple iPhone XS Max, HDR test scene for comparison
DxOMark concludes that the photographic capabilities of the iPhone XR are "broadly similar to those of the XS/XS Max" which should make the less-expensive model "desirable to many Apple enthusiasts looking to upgrade their smartphone."
"Compared to the Google Pixel 2, which is the best single-cam smartphone we'd tested up until now, the results are very comparable in many areas, but thanks to improved results for noise and particularly for artifacts, the iPhone XR just nudges it out of first place to become our top-ranked single-cam smartphone."


For its scoring and analysis methodology, DxOMark says its engineers capture and evaluate over 1,500 test images and more than two hours of video both in controlled lab environments and in natural indoor and outdoor scenes, using the camera's default settings.
DxO is a well-known French image lab that has been reviewing smartphone cameras for several years, but they aren't immune to criticism, which just goes to show how subjective image quality can sometimes be.