Changing Your Apple Watch or iPhone's Region Won't Enable ECG App Outside of United States
Apple today released watchOS 5.1.2, which enables the ECG app on Apple Watch Series 4 models. However, as Apple made clear, the ECG app is currently only available in the United States and its territories of Puerto Rico, Guam, and the U.S. Virgin Islands, preventing it from being used internationally at this time.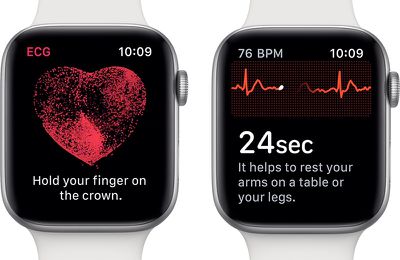 Many software features on Apple devices are initially limited to the United States, but international users have often been able to simply change their iPhone or Apple Watch region to the United States to gain access.
That's not the case with the the ECG app on the Apple Watch Series 4, though, as it only functions on models purchased in the United States. Those who live in and bought an Apple Watch in Canada, the UK, or elsewhere abroad can't use the region-switching trick to enable the ECG app — it doesn't work.
Note that the ECG app requires an Apple Watch Series 4 with watchOS 5.1.2, paired with an iPhone 5s or newer with iOS 12.1.1.
Both the ECG app and irregular heart rhythm notifications are regulated features on the Apple Watch. Both features have been granted De Novo classification by the FDA for users 22 years and older in the United States. Apple says people already diagnosed with atrial fibrillation should not use the app.
It's unclear when the ECG app will expand to additional countries, but Apple Watch Series 4 models sold internationally do have the necessary electrical heart sensor. Apple is likely in the process of gaining clearance for the ECG app in other countries, but it has yet to comment on wider availability.