Next-Gen AirPods to Spark Intense Competition in Smart Earbuds Market Next Year
Continuing improvements to Apple's popular AirPods wireless earphones will trigger an intense round of ear-device innovation and competition in 2019 as tech companies look to other avenues for growth amid declining smartphone sales, according to respected analyst Ming-Chi Kuo.
In a research note published today and obtained by MacRumors, Kuo predicted that AirPods, which are the most successful current Apple product, will rapidly grow in popularity next year when upgraded models appear, with many brands to follow Apple's steps with their own competing products. Kuo also laid out how he expects the in-ear devices to evolve over the coming years in the context of Apple's ecosystem.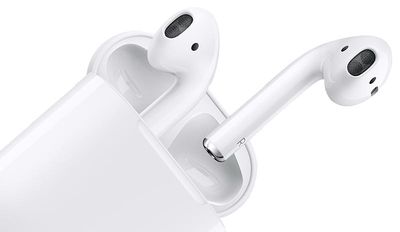 We believe that the AirPods are more than just earbuds for Apple and will become increasingly important in Apple's ecosystem for the following reasons. (1) They increase the switching costs for users to Android from the iOS ecosystem. (2) This is an important device for voice assistant/AI services because it can easily enable the voice assistant. (3) The ear is a perfect sensing area for detecting various health data. It may integrate with the Apple Watch to offer better health management in the future.
For an idea of the potential health integrations Apple has in mind for future AirPods, a new patent awarded to Apple on Tuesday (spotted by 9to5Mac) shows AirPod-like devices performing heart rate monitoring and taking body temperature measurements.
With smartphone shipments slowing, more brand vendors are said to be paying attention to wireless earbud sales as a way to generate growth in the near-term, with a view to long-term strategic improvements in the ear-device space, according to Kuo.
Google and Amazon are expected to become Apple's main competitors in the emerging market, due to the former's Android influence and the latter's mature Alexa voice assistant. AirPod-like products from both companies are expected to be launched in the second half of next year.

We believe that AirPods' success has drawn Google and Amazon's attention and these two companies will launch AirPod-alike products in 2H19. The combined shipments of two brands will likely reach 10–20mn units in 2H19. Goertek (assembly) and Unitech (Rigid-flex PCB) are sole suppliers for Google and Amazon. We think that Google and Amazon are Apple's main competitors because Google is the most influential brand in the Android ecosystem and Amazon has the best voice assistant service.
Earlier this week, Kuo said he expected Apple's AirPods to see "dramatic growth" over the next two years, with new AirPods with a wireless charging case to debut in the first quarter of 2019, and an "all-new design model" following in the first quarter of 2020.
Kuo also said that fewer than 5 percent of iPhone users currently own AirPods, and with over 1 billion iPhone users worldwide, there are "great potential growth opportunities" for the accessory. Almost a year ago, Kuo predicted Apple would launch upgraded AirPods in the second half of 2018, but Apple's difficulties in bringing its AirPower charging mat to market likely impacted those plans.
Just ahead of Apple's October media event, Kuo said he was uncertain about the timing for an AirPods update, suggesting the new models could come late in the fourth quarter or early in the first quarter of 2019.