Apple Jumps 13 Spots in Glassdoor's Annual List of Best Places to Work, But Remains Far Behind Facebook and Google
Apple has ranked 71st on Glassdoor's annual list of the best companies to work for in the United States, an improvement over its rank of 84th last year, but the iPhone maker remains far behind a handful of tech rivals.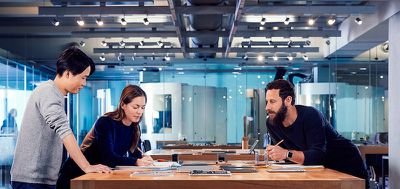 Facebook and Google are both among the top of the 2019 list, ranking seventh and eighth respectively, followed by Adobe in 30th and Microsoft in 34th. Other tech-related companies that cracked the list include LinkedIn in sixth, Nvidia in 36th, VMware in 51st, T-Mobile in 59th, and HP in 87th.
Beyond tech, notable inclusions are In-N-Out Burger in third, Southwest Airlines in 10th, St. Jude Children's Hospital in 13th, and FedEx in 85th. The best place to work overall is considered to be management consulting firm Bain & Company.
Apple has an overall rating of 4.3 out of five stars based on over 14,000 reviews from employees at both the corporate and retail level. Glassdoor quoted one review about Apple having a "fast-paced, goal-oriented environment that makes personal development and team collaboration incredibly easy to cultivate."
Apple ranked as high as 10th in Glassdoor's list back heading into 2012, the first full year of Tim Cook serving as CEO. Cook continues to lead Apple, and was ranked the 96th best CEO in the United States on Glassdoor for 2018, with a 91 percent approval rating based on 8,063 employee reviews.
As far as methodology is concerned, Glassdoor says it takes quantitative and qualitative data into account. "Led by Glassdoor's Economic Research Team, our proprietary awards algorithm factors in what employees have to say and looks at trends over time to determine who makes the list."
Complete Rankings: Glassdoor's 2019 Best Places to Work - Employees' Choice