Unlike the previous 2014 model, the 2018 Mac mini has user-upgradeable RAM. The repair experts at iFixit are now selling a do-it-yourself RAM upgrade kit for the 2018 Mac mini that can save you hundreds of dollars.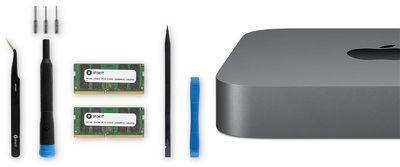 The upgrade kit includes 16GB or 32GB of 2,666MHz DDR4 RAM, the same type of memory Apple uses in the 2018 Mac mini, along with all of the tools and bits needed to complete the upgrade: an iFixit opening tool, a spudger, angled tweezers, a precision bit driver, and three types of 4mm Torx precision bits.
2018 Mac mini models are equipped with 8GB of RAM by default, but they can be configured with 16GB or 32GB of RAM on Apple's online store for an extra $200 or $600 respectively. By comparison, iFixit charges $164.99 for its 16GB kit and $324.99 for its 32GB kit, reflecting savings of $35 and $275 respectively.
Three things to keep in mind:
This is iFixit-branded RAM that matches Apple's specifications.

If you ever need in-warranty service on your 2018 Mac mini, and Apple detects that you opened up the computer, the Genius Bar may deny service. However, iFixit says this is illegal in the United States under the Magnuson-Moss Warranty Act.

There is a risk of damaging the Mac mini if the upgrade is not completed carefully.
Those interested in proceeding can follow iFixit's 2018 Mac mini RAM replacement guide.
iFixit also sells the 16GB RAM modules individually for $159.99 each.