Apple today reminded Mac developers that it is encouraging them to have their apps notarized, meaning that the apps have been scanned by Apple and checked for malware and other security issues.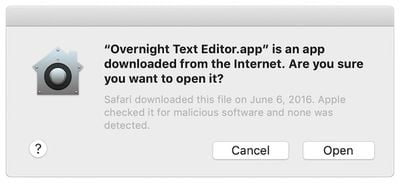 Notarization is not currently a requirement for apps distributed outside of the Mac App Store, but Apple says it will "more prominently highlight notarization status" starting in the spring of 2019. And in an unspecified "upcoming macOS release," Apple will require any Developer ID-signed apps to be notarized.
When users on macOS Mojave first open a notarized app, installer package, or disk image, they'll see a more streamlined Gatekeeper dialog and trust that it does not contain known malware. Starting spring of 2019, macOS Mojave will more prominently highlight notarization status. In an upcoming macOS release, Gatekeeper will require Developer ID–signed software to be notarized by Apple.
Apple introduced the notarization process for macOS Mojave back in June at WWDC, providing an extra level of confidence for users that apps are free of malware while also giving Apple finer-grained controls to shut down specific problematic releases instead of having to revoke an entire Developer ID.
Apple has stressed that notarization is not a full app review process and is only intended to analyze apps for security purposes.